If you're wondering how to audit your website for SEO, better user experience, and more traffic, you're not alone. Optimizing your website is a little bit like baking the perfect cake – many different ingredients have to come together to make it happen, from the design to tech to user experience. But when you get all those things right, website magic happens! ✨ Auditing your website is a great way to get a handle on how well your website is working and what could be working better for you, and it's something you can do yourself. As long as you know what you're looking for, it's possible to spot the common mistakes and perform a few quick fixes to boost performance. So, if you want to know more about how to optimize the content on your website, stick around! In this post, I'm talking about the recipe for website audit success…and I've even got a freebie to help you DIY your website audit 😉
How to improve your website traffic
Improving website traffic is a loooooong strategic game with many moving parts, ranging from website security to social media strategy to paid ads. I've written several posts on this topic before, so if you want to do the deep dive on bringing traffic to your site long after launch, check out parts one, two, and three of that post!
But if you want a quick way to improve your website traffic, here's the TLDR version: make sure you have a fast, secure, and well-designed website and blog that are SEO-optimized. Ideally, you'll also boost website traffic with a healthy dose of social media strategy. But if trying to get everything on that list right feels overwhelming sometimes, I get it! So, today, we'll focus on one piece of the website traffic pie: auditing your website to spot and fix the website design and tech elements that impact your website traffic the most.
How to optimize content on your website
Every WordPress website has a different tech stack at the foundation, but no matter what's going on behind the scenes, there are three main areas to check out for optimization: the tech stack, design, and user experience. Each one of these elements feeds into the other and works together to make your website fabulous. Without further ado, let's talk about the three main areas to audit for website optimization!
The tech stack
This one's the heavy hitter behind the scenes that can help drive more traffic to your website and build trust with site visitors, so it's a great place to start. If there's only one element of your website you audit, this should be it! A good tech stack is like building a solid foundation for a house – even though no one will ever see it, it's ultimately one of the most critical parts of the whole structure. In particular, if your site isn't well-optimized for SEO and speed, it's unlikely you'll show up in search results for new potential clients who aren't already familiar with your brand.
How to audit your website for SEO
I see a lot of people push SEO to the back burner because it seems intimidating or overwhelming – but it's essential, and the good news is it doesn't have to be that hard! 
How to do the audit
Ubersuggest can give you a fantastic starting point of how well your website is currently set up for SEO. It will also let you know where it may fall short, so you can immediately identify a game plan to make improvements. After you've run an initial audit on Ubersuggest, head over to Google Search ConsoleCheck out Google Search Console to get an idea of how your website is being interacted with and get suggestions on potential ways to boost performance and fix potential issues. 
I also recommend Googling your website to see what's actually populating for your website in search results. You can do this by going to Google, then typing your URL into the search bar. For example, it would be "site:yoururl.com". Sometimes there's a robot or site map issue that needs to be resolved before pages will show up in Google searches, so keep an eye out for any of your website's main pages that don't appear in a Google search. 
Here is how it should look in the search bar:  

The results to focus on: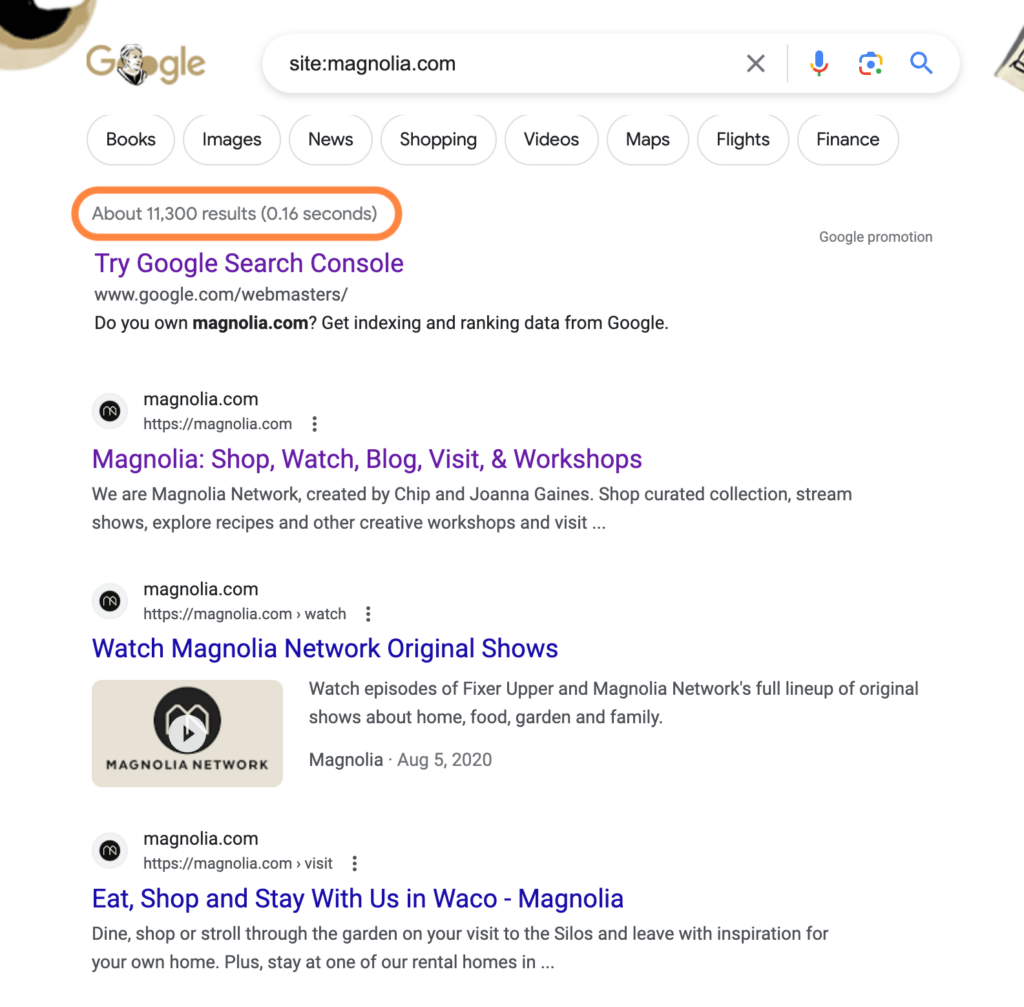 The fix
Do keyword research for each website page, then use the Rank Math plugin to help you track on-page SEO for each post. The setup is easy to follow, and it will tell you exactly what to do to optimize a given page. You'll also want to install Google Analytics to gather data on your website activity. If you want to read more on optimizing a new website for SEO, check out the full post!
Audit your website speed for better site traffic
Website visitors expect sites to load pretty quickly – in three seconds or less! Furthermore, faster loading speeds are also a ranking factor for search results.


How to check your site speed
Check your website loading times with Pingdom and Google Page Speed Insights. Ideally, your site will load in three seconds or less. And remember to check mobile AND desktop speeds since your site appears differently on those devices. Plus, users on mobile devices aren't always connected to the internet, so they might experience slower loading times.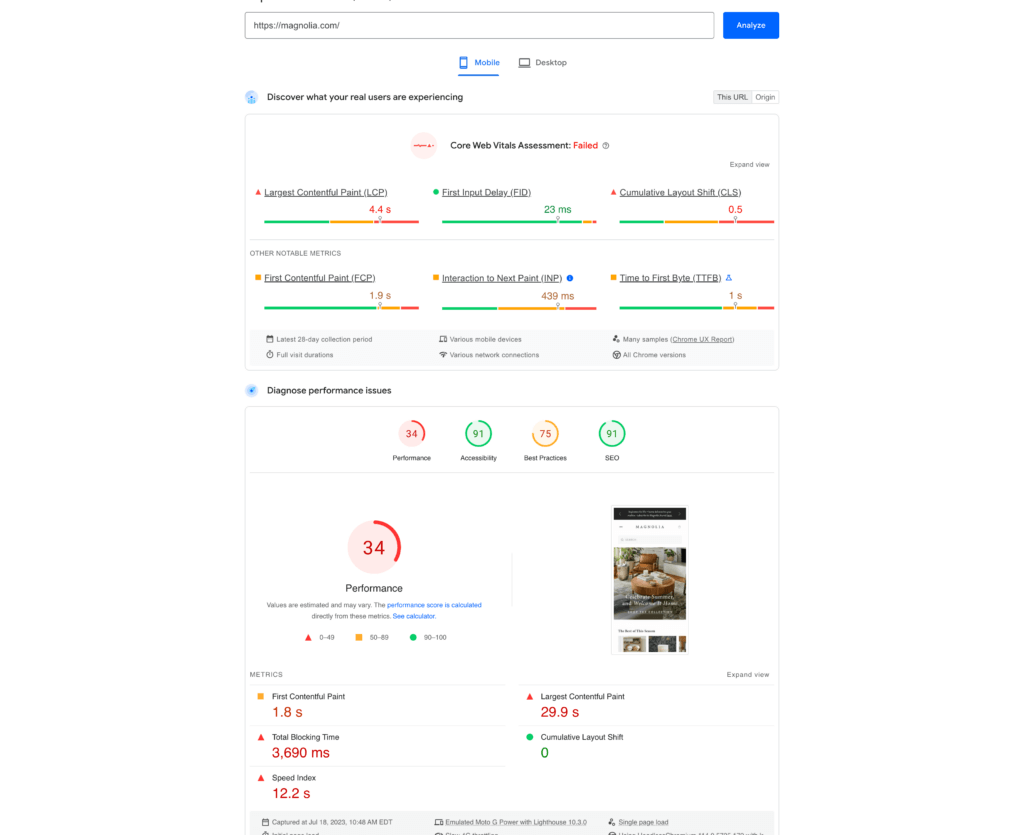 Pro Tip: be sure to tab over from Mobile to Desktop to get the full picture of your site performance.
The fix
Install the NitroPack plugin to help optimize your WordPress site speed. Once you've installed the plugin, you'll get suggestions on changes that will improve loading times. The free version is good enough to get you started, but I recommend upgrading to paid for best results and ongoing optimization. 
Psst! Want to get the inside scoop on all of my favorite WordPress plugins? Read this post! 


Auditing your website design
Your website design is incredibly important, and a lot of brands put most of their focus on getting the design portion right. And it is essential for conversions, building brand recognition, and making a great first impression (after all, it only takes visitors half a second to judge your brand after they land on your site!) However, keep in mind that unless someone searches for your site directly, they might only see the design if your site is optimized for SEO and site speed!
Design best practices to double-check on your website
User experience
Real talk: one of the best things you can do for your website's user experience is to make sure the loading speeds are on point! But, of course, your site's overall design and strategy are super important, too!
Give your user experience a quick once-over
Check the navigation and client journey through your site. Ideally, clients will make their way through your site in a logical order that

turns website visitors into clients

.

How are your

CTAs

? Clarity is kind, and it's best to give site visitors clear options on what to do next.

Do buttons and other parts of your site act the way people think they should? Double-check that these parts of your site respond to clicking, act consistently, and go to the correct pages.

Have you set up customized error pages? Extend your branding all the way to

the "hidden" parts of your site!

Is your contact info easy to find? Reaching out to you should be super simple!
And that's how to do an audit of your website!
I hope this post has helped you learn how to audit your website for SEO, how to optimize content on your website, and how to improve your website traffic. With a bit of know-how and some quick fixes, it's absolutely something you can do on your own. The most important part is that you optimize your site for SEO and loading speeds, which increases your chances of showing up in organic search results and drives plenty of traffic to your website!
Want a step-by-step guide to auditing your site?
I've made a freebie just for you. Download my site audit guide for my over-the-shoulder site audit – grab yours now!