Once you have your brand design and visual direction in place, what's the next step to level up your marketing? Partnering with a professional photographer for personal branding photography! Custom brand photography will set your brand apart from the sea of competition from the moment people land on your new website's homepage.  After all, YOU are the secret sauce behind your brand! 
Whenever people come across your brand online, their first impression happens in a flash – it only takes about 50 milliseconds for them to make their first impression of your brand based on what they see! It's no secret that great visual appeal is at the core of effective brand identity. Everything from colors to website images should align with your brand's values and ideal customer. The core elements of your design, like color palettes, logos, fonts, and typefaces, are a strong marketing foundation. Adding in personal branding photography reinforces a great first impression and better connection with aligned clients!
Which types of brand photography should I have for my business?
When you think about a professional photo shoot, the first thing that comes to mind is probably a traditional headshot. And that's undeniably a solid first choice for brand photography since it introduces you to clients and conveys a polished and professional image. But it's crucial that you have more options than just a headshot when it comes to brand photos! 
Photos that show aspects of your personality, process, and customer experience provide a way to engage with clients long after the photo shoot. When clients get to know your brand identity through photos, marketing magic happens! Today, we're going to venture beyond the headshot and talk about the three key ways a personalized library of brand-aligned photography can support your business. It can:
Build trust with your clients.
Set your business apart and show off what makes you unique from the competition.
Provide consistent messaging across all marketing platforms.
Whether you can't wait to have fun posing for the camera or get butterflies in your stomach just thinking about it, keep reading to learn more about how personal branding photography can help you build your business!
Brand Photography Builds Trust With Your Clients
When finding service providers, potential clients have virtually endless options that technically offer the same service as you. The good news is that most clients aren't looking for just anyone to provide them with a product or service – they're looking for someone they can trust! When you bring your unique charisma, style, and aesthetic to photos, it shows people that you're a real person who takes their business seriously. You've put time and thought into how your brand is presented, so they'll know they can trust you to work hard for them as well.
Personal touches like photos that highlight you in action, parts of your process, spaces you work in, or props that put your interests on display paint a picture of who you are and the ways you show up in your business. From the moment people are introduced to your company, they get a sneak peek of what it's like to work with you! Clients feel like they know what they can expect when partnering with you and see their own goals reflected in your branding tone and style. Your relationship is off to a great start before they've even scheduled a call!
Brand Photography Helps You Stand Out From the Competition
When people visit your website or social media pages and see brand-aligned photos, it gives an unbeatable first impression. It's true that people want to partner with a service provider they can trust. But that isn't the only thing that creates a connection with clients. They're also looking for a style that resonates with the way they envision themselves and their business! Every potential customer has their own brand style and values – and not everyone has the same goals, needs, or ideal vibe. 
When deciding on who to partner with, people gravitate toward authentic brand personalities and stories. Ideally, your photography will capture you doing things you love – maybe it's working on your laptop at the local coffee shop, reading a book, or working behind the scenes on your next project. Images that show what you value, what your brand is all about, or glimpses of your one-of-a-kind taste can help you connect with potential clients!
Customers who identify with your style and values will know your services will be a great fit. You'll inevitably connect with more aligned clients! In contrast with stock photography, no one else on the market will be using these exact images to communicate their brand to potential clients. You might find a handful of beautiful stock images that fit your tone, but even then, someone else might be using them. Having unique images shows people who YOU are – and that's something no one else can do! 
Brand Photography Gives You Consistency Across All Marketing Platforms
When you communicate a uniform message throughout your entire marketing strategy, you tap into a mighty branding tool: consistency. For example, you might hire a professional to establish robust brand design through color palettes, logos, fonts, and a website. Adding custom photos is an additional way to build even more know, like, and trust for your brand. 
Not to mention, investing in a well-aligned visual marketing strategy pays off – consistency has the power to increase revenue by 33%! No matter where your company is found – on your website, social media, or even print collateral – it's worth making sure your visuals, messaging, and images are represented cohesively. With brand photography, your website gains a unified tone that reinforces recognition and trustworthiness. So get creative and go beyond the headshot – get some great brand lifestyle shots! You'll always have a brand-aligned image to share, whether on your website or in your next Instagram post!
Need Brand Photos inspiration for your website?
Finding a brand photographer who offers a strategy session before your shoot is a must! Chatting through your company's vision, brand values, and visual direction is key for a successful shoot! This is where having clear brand guidelines are key and why I recommend to my clients to wait until after we have completed their brand strategy and design before investing in their brand photography session!
Going beyond the traditional headshot is also a crucial piece to developing a brand that will not only help you stand out but also truly show what it is like to work with you and your business. Here are a few of my top must-have shots for any personal brand's website.
1. Behind-the-scenes shots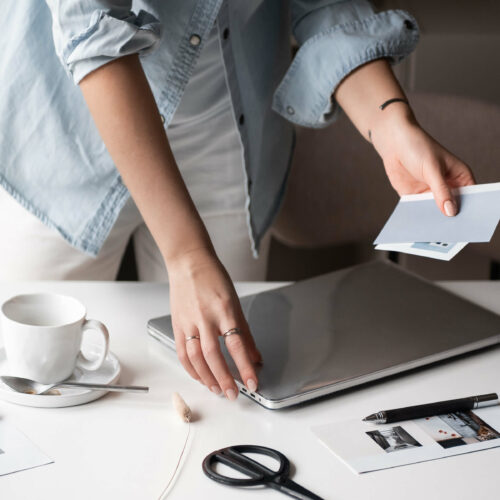 2. Horizontal & vertical shots

3. Personality Shots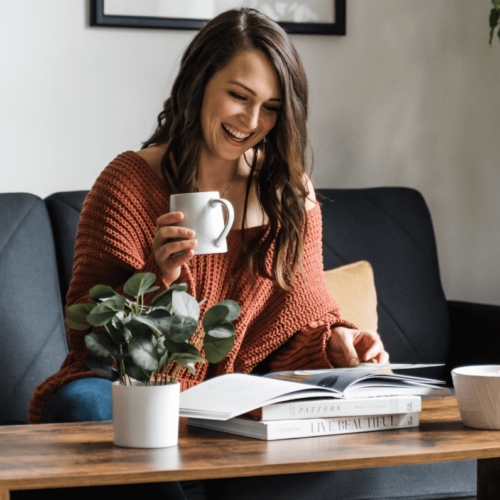 What can custom photography do for my brand?
To sum it up in a nutshell, investing in a personalized photo shoot is a fantastic way to maximize the impact and appeal of your business. When you build a customized inventory of imagery, you gain potential clients' trust, set yourself apart from the competition, and create consistency on all of your marketing platforms. There's so much more to your offering than just services! Bring the human side of your business forward with the types of brand photography that shows your personality, your values, and what it's like to work with you. Get creative – have fun with the process! Rather than multiple headshots or photos of you smiling, take advantage of props, workspaces, and action shots that reflect your desired tone.
A professional lifestyle or brand photographer has the expertise to capture your distinctive aesthetic. When you find a photographer you feel comfortable and confident with, you're sure to come out of the process with amazing photos that will be a game changer for your business! It's also an excellent opportunity to boost another entrepreneur when you hire a local photographer. If you're in the Raleigh area, there are some amazing brand photographers in the area! 
Here are a few of my local and trusted faves in Raleigh, NC:
If you are a personal brand, looking for a Raleigh-based photographer for your business check out Cailyn Whitman Photography!
If you are looking to capture some video with your brand photography and take your business to a whole new level, check out Thrive Film Co.!
If you are an interior designer, organizer, or any other luxury brand, be sure to check out Abigail Jackson Photography!
And, as always, if you're looking for a full custom brand design, complete with a new website, I can help you with that! Just fill out my contact form, and I'll be in touch!