So you're ready to create a new website for your small business, but where do you start? Let's be real; with so many website platforms out there, it's easy to get lost in the sea of choices. No worries – I've got you covered! In this blog, we'll chat about two of the most popular options, WordPress and Wix, to help you decide which one suits your business best. So grab your favorite beverage, and let's dive in! 
What is the difference between WordPress and Wix?
Before we jump into the nitty-gritty tech details, let's clarify one thing: we're comparing WordPress.org vs Wix. (Psst! If you're confused about the difference between the two versions of WordPress, I've got a whole post on that!)
So, what do WordPress and Wix have in common? They're both website-building platforms, but when you peek below the surface, there's a pretty major difference:
WordPress is an open-source content management system, which means developers can create templates, code, and plugins that impact design and functionality, creating almost endless options for customizing your website's appearance and performance.

Wix is an all-in-one website solution that works more like a closed system. All of the website hosting, design templates, functional details, and apps are built right into the service.
At the end of the day, both of these services will get your business website live. However, when it comes to ease of use, customization, SEO optimization, and design potential, they have *quite a few* differences. As a WordPress designer, I might be a little biased, but I genuinely believe WordPress is the better choice for most business situations. I've had SO many clients switch over to WordPress because their Wix sites weren't getting the organic traffic they hoped for, and they kept running up against feature and design limitations. If your number one priority is to get a simple website up and running as quickly as possible, Wix could work for you – but many people quickly find out that there are features they want that WordPress does better. Let's dive into the details! 
Ease of use
If you're trying to decide between WordPress vs. Wix, you're probably wondering, "Isn't it just easier to create a Wix website?" I totally get it; a lot of small business owners are going the DIY route and want the simplest solution. While setting up a Wix website is straightforward, it's not always the best choice in the long run. Signing up, choosing a plan, and filling in a template with your details only takes a few hours, but making changes or moving your website to new hosting later can be a pain. 
On the other hand, WordPress has a steeper learning curve and takes more work to get set up. However, if you choose a managed hosting service like Flywheel or Kinsta, they'll guide you through buying a domain name, choosing a hosting plan, and WordPress installation. Plus, with the Beaver Builder or Elementor plugins, you can turn template editing into a drag-and-drop experience similar to Wix. When you compare WordPress Elementor vs Wix, these two services are equally easy to use after the initial setup.
Winner: Wix's setup is more beginner user-friendly, but don't be intimidated by WordPress! Even though it comes with a learning curve, with a good managed hosting provider and the right plugins, it's much easier to use.  Good things take time, and it's worth investing a little more time into getting up and running with WordPress.
Customization and design potential
If you want to be shout-it-from-the-rooftops obsessed with your custom website, WordPress is the way to go. With so many plugins, themes, and customizations out there, WordPress can do pretty much anything you're dreaming of. If there's no existing solution on the market, you can always hire a developer to custom-code one that works for you.
Meanwhile, Wix is far more limited. Once you've chosen a template and built a site, your options for change are minimal (unless you're willing to rebuild your site from scratch). While Wix does have a plugin alternative, called apps, there are only around 300 to work with. Wix does allow some coding for additional functionality, but it's nowhere near as flexible as WordPress. 
Winner: WordPress, hands down. While Wix allows for some customization, WordPress is THE platform for customized websites.
WordPress vs Wix SEO capabilities
SEO is one more area where WordPress outshines Wix. While there's a whole laundry list of things both WordPress and Wix can do – like changing page titles, meta descriptions, H1-H6 tags, and Google Analytics – Wix comes up short in the end. One of my biggest pet peeves is that Wix randomly assigns image file names whenever new files are uploaded. Not being able to rename images is a huge missed SEO opportunity. 
Another area where WordPress wins out for SEO is blogging. I'm a huge advocate of blogging as a long-term SEO strategy. Every post is another opportunity for your site to appear in organic search results. While you can blog on Wix, it's no match for WordPress, which is the #1 blogging platform on the internet. Plus, all the best SEO plugins, like Yoast and Rank Math, are built for WordPress. 
Winner: WordPress wins out for having more robust SEO tools and a better blogging platform.
Site Speed and Mobile Responsiveness
You only have a few seconds to catch someone's attention when they land on your website, and loading times and mobile responsiveness are non-negotiable parts of the strategy to draw in new visitors. Loading speed and mobile responsiveness can vary depending on so many factors, like hosting, site theme, and content. And since 60% of internet searches happen on mobile devices, mobile responsiveness is crucial for optimizing your site's load time.
While Wix does have mobile optimization tools, they're not the easiest to work with. Plus, the more content you add to a Wix site, the more you risk slowing down load times. In contrast, WordPress offers better mobile optimization tools, various plugins, and hosting upgrades that can help improve site speeds. 
Winner: WordPress has overall better site speeds and mobile optimization tools. Plus, if you run into any problems, it's easier to switch up hosting, add optimization plugins, and troubleshoot page load times in WordPress.
Pricing
You can create free sites on Wix, but I don't recommend that for business owners since you can't have a custom domain name or remove Wix ads. Excluding the free option, Wix offers seven monthly payment plans ranging from $16 to $59 per month. 
With WordPress, you'll need to buy a domain name, hosting, theme, and plugins according to your needs. The costs can vary, but you can expect to pay About $12/year for a domain, $25/month for hosting, and the initial investment of a theme or hiring a website designer to create a custom site that fits your business goals. 
Winner: It's a tie. Wix's pricing is more straightforward, but WordPress can be tailored to your budget.
How is WordPress different from Wix?
At first glance, Wix might seem like the better option, and in some cases, it might be the better fit for a solopreneur who wants to set up a website in a day or less. While I don't think that approach is ideal, sometimes people need a simple and fast option for going live – and that's definitely something that Wix can offer.
On the other hand, if you have plans to scale your brand, monetize your blog, or work with a designer, WordPress is my top pick—the customization options, design potential, and overall flexibility make WordPress better for long-term success.
Need a fresh WordPress website for your business, like, yesterday?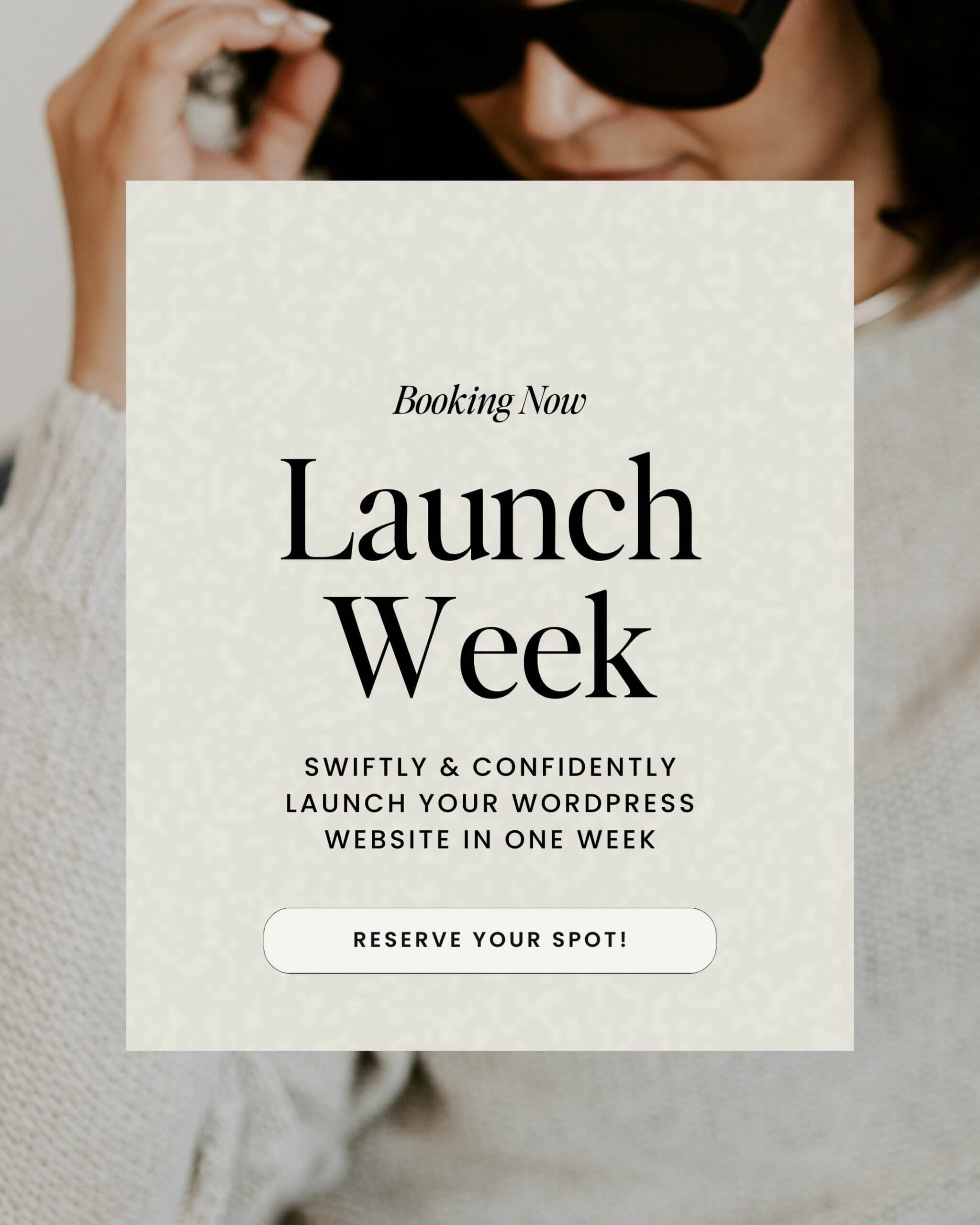 Step away from the Wix signup page and sign up for Launch Week. It's the simple, no-stress way to get your new website up and running in as little as a week. Book your Launch Week now!