Building a website for your business is a HUGE part of building a brand. It's your virtual storefront to the world – but it's also so much more than that! Your website is also a place for your brand to make a great first impression with potential clients and maintain strong relationships with existing clients. A secure and dependable website is crucial for protecting site data and guaranteeing a smooth user experience for site visitors. But setting up the back end of a website can be a lot of work! If it's not already your expertise, sometimes it's overwhelming to know where you should start. I get it! 
One of the most common questions I get about the tech side of website setup is, "What is website hosting, and where do I get it?" The type of hosting and the provider you choose directly affect your website's speed, potential downtime, and customer service experience! Since I hear hosting questions so often, I wanted to dedicate a blog to helping you understand the ins and outs of the best website hosting for WordPress sites. 
In this post, I'm breaking down all of the details on what WordPress hosting is, the difference between shared and managed hosting options, what to look for in a hosting provider, and how you can answer the all-important question: What is the best hosting platform for my WordPress website? (Psst! If you're short on time, you can click here to skip to the end and find out my top hosting recommendation for your WordPress website!)
What is WordPress hosting?
A quick and straightforward way to explain hosting is that it's where your website "lives" on the internet. For your site to show up on other peoples' computers, all of the files that make up your site must be stored together in one place. Whenever a visitor lands on your website, the hosting server sends your site data to their computer so that they can browse around! When a hosting service works well, your website will load quickly and reliably for visitors. But if the host is overloaded or down, your site could load slowly or not at all!
Handling the IT maintenance work that comes with setting up and maintaining a hosting service isn't usually something that falls in the scope of expertise for small business owners. Enter web hosting services! The best hosting platforms help small businesses by taking care of back-end site maintenance for you. That way, you're freed up to focus on creating great site branding, design, and content – not the ins and outs of troubleshooting the tech details that keep your site working well on the internet.
Several companies provide a hosting platform for small business websites in exchange for a monthly or yearly fee. In return, clients gain storage space on a server for their website's files so others can view their site on the internet. The best website hosting providers will offer additional valuable features like customer service support, automated site backups, and security monitoring. When shopping around for hosting providers, you'll come across two main options: shared and managed hosting. Let's dig into the differences!
What is the difference between shared and managed hosting?
Finding a reliable hosting option is essential to your site's function, speed, and security. But how will you know the best hosting platform for your website? Hosting services range in price and features, and it's not always easy to understand which package you should choose. All WordPress websites have the option of using shared or managed hosting services. While both will get your site up and running on the internet, managed hosting has some serious long-term benefits as your business grows.
Shared Hosting
If we're thinking of hosting as where your website "lives" on the internet, then I like to think of shared hosting like living in an apartment complex. Your site has its own "spot," but it's just one unit within a more extensive structure and system. Maintenance issues and changes to the hosting platform can affect everyone who's part of the system – whether or not it fits within their own convenience or scheduled plans!
These unplanned site hiccups and outages happen because you're sharing the same resources with all the other websites that "live" in the same server space. So, if you have a significant surge in traffic, your site's performance might take a hit with slower load times or error messages. While it might not sound like a big deal at first, it's definitely not ideal if your site is unexpectedly down or loading slowly due to shared server issues.
Some of the most popular providers for shared hosting are companies like Siteground or Bluehost. Shared hosting is an inexpensive and easy way to get started when your website is smaller and you don't expect to get high volumes of traffic on your site. But remember – the "just getting started" phase is only the FIRST step of your ever-growing business! So, as soon as your budget allows for it, I highly recommend making the switch to managed hosting.
Managed hosting
Managed hosting for a website is like your website living in a single-family home. There's more space for your site's files, and you'll have more control over your hosting environment. If updates or maintenance are needed, it only affects your individual "home." No one else is on the same hosting server, so all the resources are dedicated to your site. The result is that your site's loading times and downtime won't ever be affected by other websites' traffic.
However, with managed hosting, you don't have to be responsible for all the details of that server's security, backup, and updates. Those are all handled by the hosting service provider, which makes it the best website hosting option for small businesses. Managed hosting platforms do the work of "managing" your server with day-to-day hardware and software maintenance, monitoring activity and security, and site backups. 
While managed hosting costs more than shared hosting, this is definitely a case of getting what you pay for. There's a lot of expertise involved in keeping a web server running optimally, and managed providers take care of that for you. You'll get better ongoing maintenance, and if anything goes wrong with your site, managed hosting providers offer superior customer support to get you back online quickly.
In my opinion, managed hosting is the way to go for your business! I recommend managed WordPress hosting 100% of the time over shared hosting sites like Bluehost or Siteground. You just can't beat the higher level of customer service, lower rates of downtime, and faster site speeds that come with managed hosting services!
Even if you've made the decision to go with managed hosting, there are certain services you'll want to look for to find the best hosting platform. Keep reading to find out what features you'll need in a website hosting provider and my top pick for managed hosting!
What you should look for in a hosting platform
When it comes to evaluating a hosting provider, there are some key areas to keep in mind to choose a great fit. Let's take a closer look at the things you should keep an eye out for to find the best website hosting.
Speed

: Users excerpt your site to load in a very short amount of time – only one to two seconds! Google also uses page speed as a factor in ranking search results. Your hosting provider can affect your website's loading speeds, so choose wisely!

Bandwidth

: Bandwidth limits can restrict your site's content, the allowed number of visitors, or even disable your site! Choose a provider and plan to accommodate your site's content volume and the number of visitors you think you'll have.

Storage

: The amount of storage you'll need depends on your particular site. For instance, a landing page or small site will need much less storage than a site with hundreds of pages of content. 

Security

: The best website hosting comes with well-rounded security features that keep your site's information secure, like firewalls, activity monitoring, and SSL certificate support. Security is especially important for small businesses since they often receive payments and collect user information!

Support

: Access to 24/7 monitoring and customer service means you'll always have top-notch support on call in case of any site problems or outages.

Scalability

: As your site grows a content library and draws more traffic, you'll need more space and bandwidth. It can be a hassle to change hosting providers as your site grows and needs to expand, so it's convenient to have the option to scale up as your site's needs grow. 

Backups

: It's always a good idea to prepare for the worst-case scenario of losing some or all of your site's data. A hosting provider with a good backup and retrieval system can help you recover site data in the event of a website emergency.

Uptime

: Uptime is the amount of time your website is accessible on the internet. Of course, 100% uptime is ideal, but it's not really possible for hosting providers to guarantee that your site will never, ever experience downtime. Most providers can realistically commit to 99.9% uptime, which is a good number to look for!

Ease of use

: Even though a managed hosting provider will take care of legwork on your site's back end, you'll still want it to be easy to use their system dashboard and contact customer support whenever you need them.
Should you use a hosting company or pay for hosting with your web developer?
Many website designers and developers offer "comprehensive" website design and launch packages that include hosting services. On the surface, this seems like a convenient way for your business to avoid dealing with hosting altogether. Instead of researching, choosing, and paying for a hosting service on your own, you can just add this service to your website package with a developer. Easy, right? Not so fast – this is actually something I don't recommend! 
Time and time again, I've seen clients get locked out of their sites because a good relationship with their developer turned bad. In the worst cases, I've seen people who have lost their entire sites! Even if the relationship with a developer is positive, it's super common for a client to get locked into a situation where they can't access the back end of their website and hosting services without paying for more hours with the developer. 
A web developer can be a beneficial resource for setting up and managing the back end of your site. But it can be frustrating to go through another person whenever you have an issue with your site or want to access something. After all, they're only one person, with limited time! They might not always be available on short notice or if your site has a maintenance issue on a holiday.
While it takes some up-front time investment and decision-making, I recommend that people use a third-party hosting company overpaying for hosting with their web developer. In the long run, it's better to depend directly on a reliable hosting company's dedicated customer service team to resolve any website issues that might come up. Plus, instead of potentially having to be billed for face time with a developer to resolve issues, the cost of the hosting company's customer service team is already built into the price you pay for hosting services.
Website hosting companies are set up to monitor your site activity, perform routine maintenance, and take care of any issues quickly, no matter when you need help with your site. Even if a web developer gives you excellent service, you're just not as likely to get the 24/7 support and thorough expertise you'll find with a dedicated customer service team at a hosting company. 
My Top Website Hosting Recommendation
For the best website hosting, my top recommendation is Kinsta. Followed closely by Flywheel. Their hosting services are tailored specifically for WordPress sites and updates, which means your site will be protected from more security threats. You'll also have a smooth user experience that's easy to navigate and is built specifically for a WordPress site like yours.
Flywheel has also optimized its services to give WordPress sites the best uptime possible and speedy loading times. If your site gets a traffic spike or surge, they're ready to handle it without any snafus or loading errors.
Plus, their user experience and customer service are top-notch. Contacting the customer service team from your dashboard is simple, and they're available 24/7/365. Even if your site goes down on a holiday or in the middle of the night, they're ready to help. There's even an entire resource library of support team FAQs and guides to steer you on the right path.
Kinsta and Flywheel also keep its customers' site content protected with security monitoring and automated nightly backups, which are stored for 30 days. If something takes your site completely offline or causes you to lose data, you can pull your site data from the backups – your site will be up and running again quickly and easily. 
If you're looking for the best website hosting platform for your small business, Kinsta is it! Their reliable services, fast page speeds, and fantastic customer service make them my top pick. Sign up now using my affiliate link. They'll even take care of moving your site for free!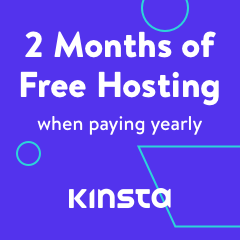 As you figure out which hosting to use for your small business website, I hope this blog has helped you sort through your options! There are so many hosting providers out there, and it can be overwhelming to choose just one. Now that you know the difference between shared and managed hosting and which qualities to look for in a hosting provider, it should be a little easier to answer the question "what is the best hosting platform for my small business website?" Even though it takes a little more legwork initially, I always recommend using third-party hosting over hosting through your web developer. That way, you're guaranteed unrestricted access to your site's back end and the people maintaining it. And, of course, if you want a hosting provider you know you can trust, you can always go with my top pick, Flywheel!
If you're ready to ditch tech overwhelm on your WordPress website, I'd love to chat with you about how we can partner together! You can apply to work with me!