A strategically-designed website can be an absolute game-changer for leveling up your brand and connecting with more ideal clients. But before you can dive into creating a whole new website, you'll need to be crystal clear on your one-of-a-kind brand identity. So, how do you pin down all those little brand identity details and ensure they're consistent and aligned with your ideal client? Enter the brand style guide! We'll spill the tea on all the details of what brand style guide guidelines are and what to include in a brand style guide in this post. 
What are brand style guide guidelines? 
Brand style guidelines serve as a guidepost for all things related to your brand's written and visual representation. Of course, it covers things like your brand colors, logos, and fonts…but those things aren't just selected at random! They're specifically chosen to create a personalized brand identity that will make an ideal impression on potential clients and build know, like, and trust with current and potential clients. 
Even though brand style guidelines are a must-have before designing your website, they're incredibly useful for SO many things in your business. They're all about incorporating your brand's core mission, values, and vision across your entire online presence, from your website to social media to client-facing documents. Ultimately, detailed brand style guidelines lead to clear messaging, better relationship-building, more consistency, and working with more dream clients!
Why clear brand guidelines matter
Your brand strategy is there to bring the big-picture vision to life across all those customer touchpoints that happen in the day-in/day-out interactions with your brand. A clear brand style guide:
Creates consistency: No matter where people come across your brand, they'll find the same identity.

Builds brand trust: As people get to know your brand style, they gain confidence that you're the real deal. 

Makes the creative process SO much easier: You won't have to search for the "right" fonts, colors, or words whenever you want to create something for your business.

Provides clarity as you grow: Knowing the how and why behind your guidelines helps you keep your ideal client in mind as you make decisions.
What to Include in a brand style guide
If you don't already have brand style guidelines, then now's the time to think about those details and decide how you want to represent your brand! But what is a visual brand guideline, and what is in a brand style guide? Your brand style guide should include the following elements:
At-a-glance page
This one-page quick guide is one of my favorite things to provide to clients. It serves as the anchor of your style guide, providing a snapshot of your brand's visual identity. All the highlights of your brand visuals are summarized in this quick reference point for your team, which keeps everyone on the same wavelength when creating new brand content. When you have everything distilled into one central document, it's super convenient to reference the guidelines at a glance. That way, whenever you create a new sales page, Instagram post, or Pinterest pin, you'll be sure to stay on-brand. 
Brand color palette
Your brand color palette is more than just a selection of pretty hues. They've purposefully selected colors that represent your brand's personality, values, and messaging. After we help clients choose brand colors, we provide a handy guide to the primary brand colors, secondary colors, and preferred neutral tones for use in backgrounds and text. We also include recommendations for which contrasting colors would be ideal for making CTAs stand out on websites and marketing materials.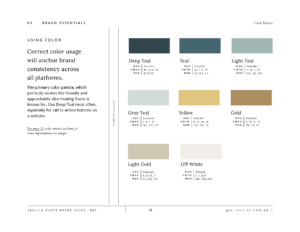 Typography
The overall typography of your (keyword) conveys more than just words. It's a visual tool that can bring to mind certain impressions, emotions, and tones in the mind of your ideal client. There's a whole lot of design strategy that goes into which primary, secondary, body, and accent fonts will be used for your brand – and when you should use them! We advise our clients on when and how to use each brand font, including all the nitty-gritty details of spacing, sizing, and styling. It's also helpful for clients to have a mockup of what the recommendation looks like, so they can pass it on to new team members with minimal explanation of how brand visuals should look. 
Brand photography direction
Even though we're not brand photographers at Southern Creative, we know great brand photography when we see it! That's why we guide our clients on what kind of imagery and photography would be good to add to brand photoshoots and stock photography wishlists. We even provide a few visual aids, so they'll know exactly what they're looking for when hiring a photographer or looking for stock photo downloads. Curious about which style of brand photography is the best fit for your brand? Check out our freebie!
Logo versions and usage
Your logo is one of your brand's most important visual assets, and most brands have multiple logos. A logo must be adaptable to various visual applications while remaining undeniably recognizable. That's why your brand style guide should include color and black-and-white versions of your logo, horizontal and vertical orientations, and a sub-mark (aka a simplified version of your logo). We provide our clients with several logo variations and guidelines on when and how to use them (so our clients' logos always appear their best!)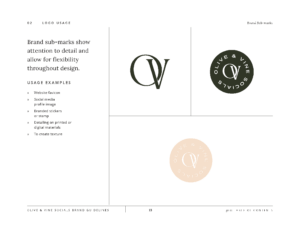 Brand vision + mission
Your vision and mission statements lay out what your brand is all about and who you serve. They're powerful communication tools that define how you connect with your audience on a deeper level and keep you aligned with your ideal client. Include them in your brand style guidelines to keep your messaging and ideal client top of mind for everyone who works with your brand. 
Brand voice + messaging
How your brand sounds is just as important as how your brand looks! Your brand voice reflects your company's personality and values through every piece of copy and content you create. Brand voice encompasses the language and tone you use, the types of topics you discuss, and the overall vibe of written communication. Brand voice guidelines define all those characteristics, including the dos and don'ts of brand communication, so your brand voice remains consistent and authentic to your brand values. 
Now you know what's in a brand style guide!
It's a collection of instructions on your brand's visual and written communication that guide you (and everyone else who works with your brand) with an invaluable reference point for communicating with your ideal client! 
Want to get your hands on fresh branding?
We offer brand strategy and design packages to get people on the right track with their branding before investing in a website design. Inquire today for a brand evaluation!