Today, I'm sharing all about the essential first step in my signature website building process: Brand Guidelines! When your business is growing, it's inevitable that you'll get to the point when you need a scroll-stopping website to elevate your brand to the next level.  A website is more than just a home for your business on the internet. It can be a POWERFUL marketing tool that converts readers to clients.
At first glance, the process of launching a new website for your business might seem pretty straightforward. As long as your site is functional and looks good, you should be ready to launch in no time, right? Not so fast!
Sure, you could build a website from a template and have it thrown together in less than a week. But trust me when I say that if you use cookie-cutter solutions, you will get cookie-cutter results. With the right process and a systematic approach, you can find your unique brand identity and ideal target methods to communicate with EXACTLY the clients you want to reach. Cue the confetti!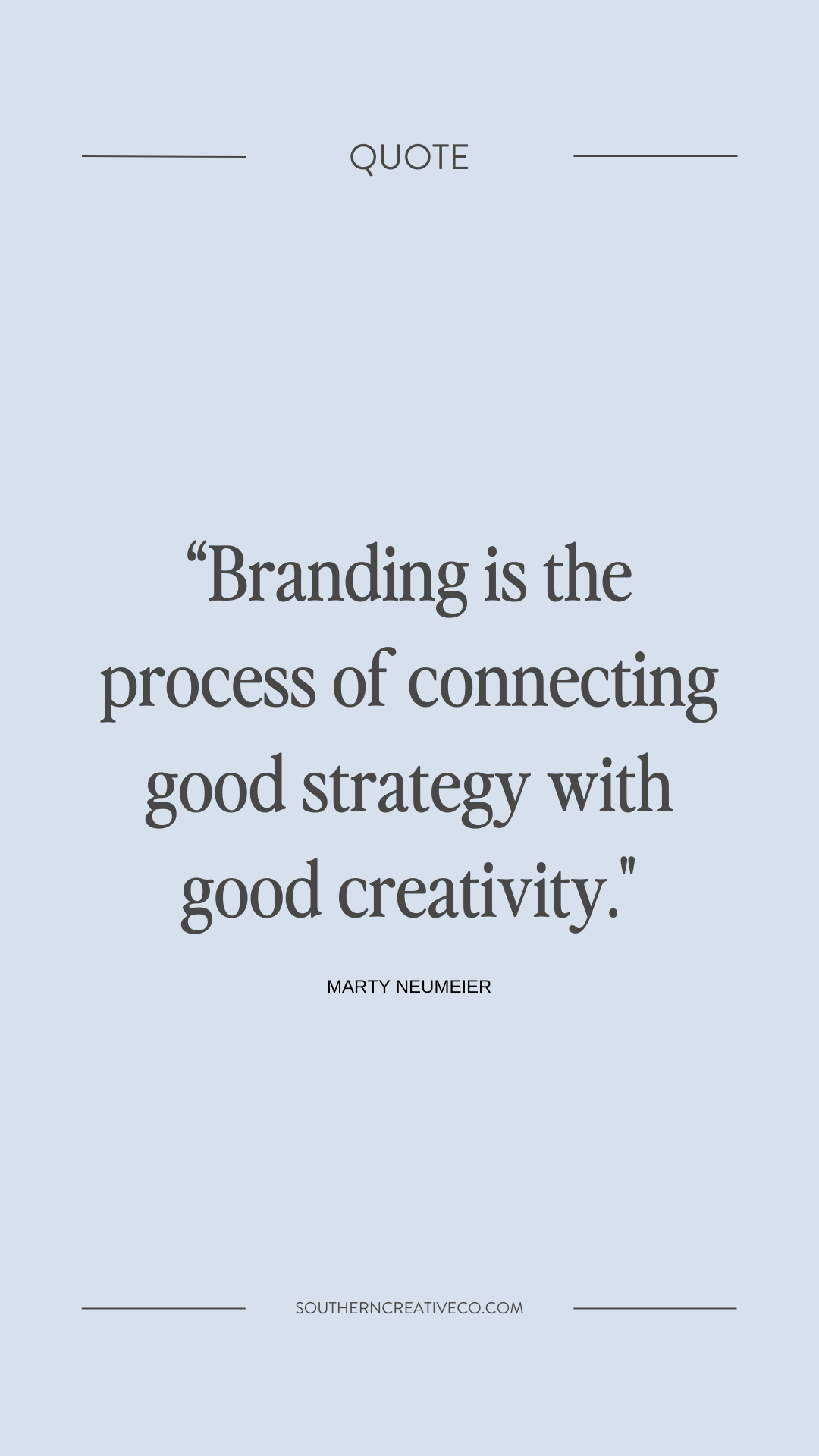 Marty Neumeier once said, "Branding is the process of connecting good strategy with good creativity." This is true for every part of your brand identity, including your brand visuals and – you guessed it – your website! One of the best tools for connecting a great strategy with a great website is customized Brand Guidelines (aka a "Brand Style Guide").
Jumping into designing your website without having Brand Guidelines is a little bit like throwing spaghetti at the wall to see what sticks. You need to have a clear vision for your brand, or your design – and your results! – will be a little bit like that spaghetti experiment: messy and inconsistent. Don't worry, I've got you! So put down the spaghetti and let's talk about Brand Guidelines, how they fit into your marketing strategy, and how they help you get STELLAR results on your website and for your company.
Building a consistent brand presence for your business, on and off the internet, is about so much more than "just a website." A custom website, strategically aligned to your brand, is a vital piece of your marketing strategy! But before we even get started on designing that shiny new website, you need to be clear on your one-of-a-kind brand message and identity.
It's so important to clarify the ideas behind your brand's visual foundation BEFORE designing your website. Taking the time now to build the strategy behind your visuals and content will bring more consistent results and help you stand out to your ideal client (more on them later)!
Once you know exactly who your brand is, what your brand offers, and who your audience is, you can unite all of that information into a key resource for your business: Brand Guidelines. Think of Brand Guidelines as a super-powered tool for your business. They'll help you communicate your unique message to potential clients with laser-like focus and consistency. Once your brand style guide is set, you have confidence that your business is showing up in the same way throughout all of your brand messaging.
And – bonus! – once you've strategically and systematically figured out your branding elements, you will ultimately save your business time, money, and energy. No more hassle of having to work from the ground up every time you need a new marketing piece for your brand. All of these things add up to better business, less work for you, and more connection with your target audience. And when you have all of that, you're going to see value added to your brand AND your bottom line! Now that's something to get excited about!
In this post, I'm going to share my top tips about Brand Guidelines! We're going to cover everything from why they're important, to what they are, to why you need Brand Guidelines BEFORE investing in your new website. You'll find out:
Why it's important to have Brand Guidelines for your business
What Brand Guidelines are
What should you include in Brand Guidelines?
Benefits of having Brand Guidelines for your business
The Importance of Brand Guidelines for Your Business
Most business owners know that branding is key to their marketing strategy. But a brand is more than just a logo, color palettes, and fonts! Let's establish a quick definition of branding before we talk about why Brand Guidelines are so important for your business AND your new website!
What Is Branding?
Branding is marketing-speak for the ideas that help people understand what you're about as a company, product, or person. You can think of it like the personality of your business. Other people might offer the same service as you, but once you combine that service with YOUR unique vision, mission, values, and voice…that's where the branding magic happens! No other business is exactly like yours, and branding is what sets you apart from everyone else.
Why is Branding Important?
Branding helps potential clients tell the difference between you and your competitors. A strong brand identity will help your message stand out from the crowd and will help you speak directly to your ideal client. Having a clear brand message can be the difference between someone choosing to do business with you or choosing to do business with someone else!
Branding is about more than Designing the Visual Elements that Go with Your Business.
It's about strategy! When someone comes to me for "branding", they are usually thinking of the end product of all of the visuals related to a brand. For example, those visual elements might be things like logos, color palettes, or fonts. However, your brand is SO MUCH DEEPER than just that! The perfect color palette and amazing fonts won't make a difference unless you have a website that is backed with both strategy and functionality.
Your brand reaches beyond visual elements, and goes all the way to your voice! It's in the vision behind your company and the drive behind your "why" for starting your business. It's how you define your ideal client and how you show up to communicate with them. Even if you've never written it down, you probably already know some of the things about your brand that set you apart from "the other guys." The next step is digging deep and getting strategic about harnessing those messages into one cohesive brand identity.
How Do I Figure Out my Brand's Identity?
Before I dive into building a custom website, I guide my clients through a tried-and-true process, including market research and a Brand Strategy Workbook, so I can help them identify their unique brand voice and tone. These exercises bring SO much clarity to a company's brand. Once we define these things, the visuals of a brand will fall right into place!
As part of my Signature Service, I help clients figure out how to spot everything that makes up the "secret sauce" of their brand. This starts with defining the vision, mission, and core values of the brand itself. We delve into the nitty-gritty of their business' exact place in the market, so we can strategically and specifically communicate directly to their ideal client.
After we've identified a company's unique voice and place in the market, we have a lot of powerful branding information! Using the client's targeted identity, tone, and audience, I'm able to create a design that truly reflects the client's brand, vision, and team.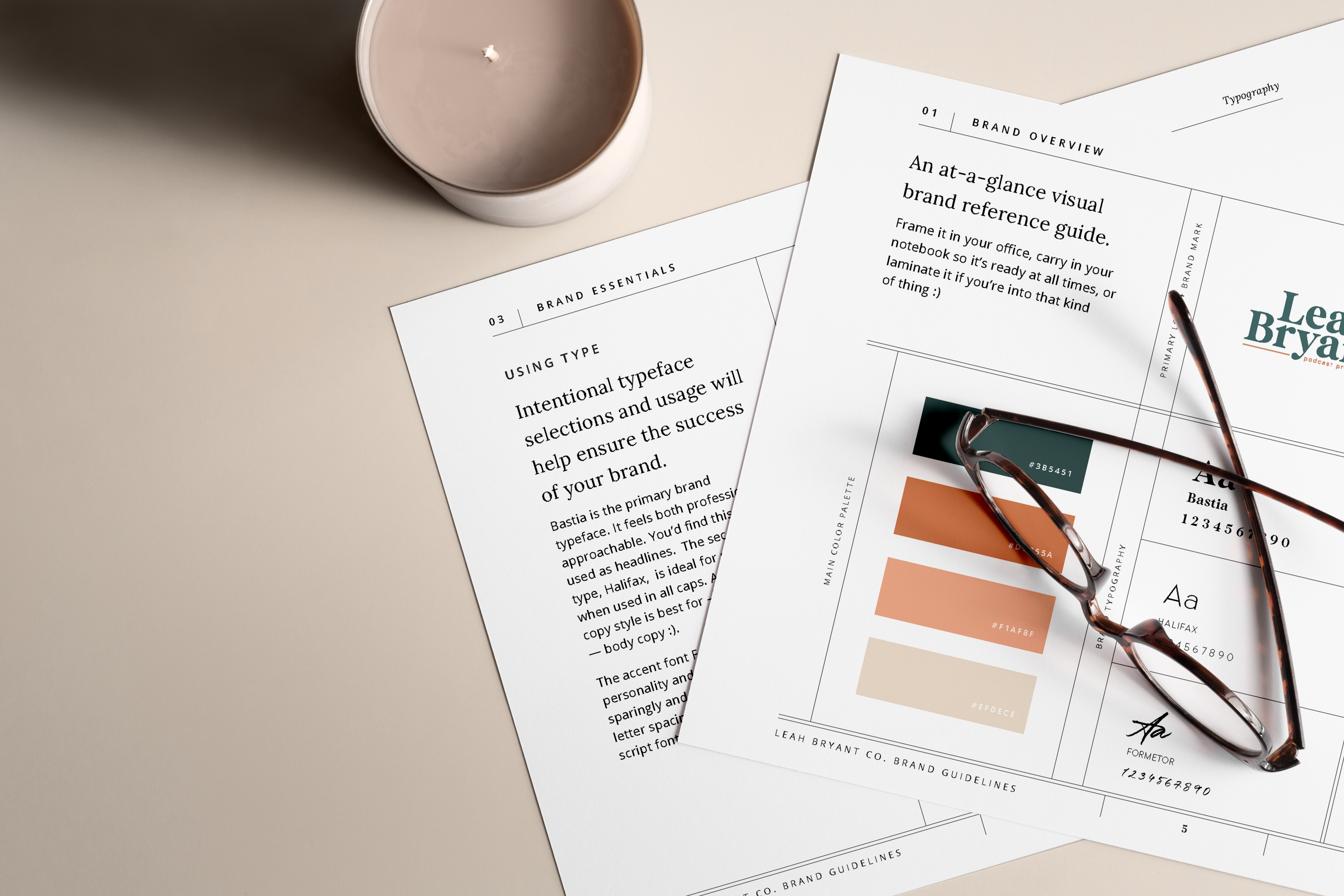 What are Brand Guidelines?
When you use consistent visuals for all of your company's content, you gain brand awareness and build confidence and trust with potential clients. This is why it's so crucial to go through the branding process and create a distinctive brand style and graphics before creating a website. But if you want branding elements to really work hard for your business, they shouldn't just be on your website!
So, after you've finalized your signature brand identity and visuals, how do you make sure they show up consistently throughout your business' messaging, from emails to Instagram to your website? Enter Brand Guidelines!
Brand Guidelines are a custom handbook of your company's marketing identity rules and standards that communicate precisely how your brand presents itself to the world. Personalized brand style guides work for you to ensure consistency across all of your brand's messaging.
What's included in Brand Guidelines?
To be sure all brand elements are consistent for my clients across all aspects of their digital identity, I help them create a custom brand style guide for their business.
Brand Guidelines include:
Essential Messaging Guidelines
A company's vision and mission clearly stated
A brand's core values
A brand's unique value proposition (In other words, what problem do they solve?)
The identity profile of the brand's ideal client
Voice and tone guidelines for written communication
Language usage guidelines, like keywords and commonly used phrases
Visual Guidelines
All versions of the brand logo
The brand's color palette, with exact codes and formulas
The brand's fonts
Curated brand imagery (or visual direction to hand over to your brand photographer)
Any other brand assets – such as patterns
Brand Guidelines direct companies in EXACTLY how to use these assets to maximize their marketing impact. For my clients, I include in-depth details on how to use all branded materials. Whether it's direction on where and how to use logos and fonts, the techy specifics about SEO and keywords, or how to use file types and color modes…it's in the brand style guide!
Benefits of Brand Guidelines for your Business
Strategically building Brand Guidelines brings clarity to your company's message and is absolutely essential to building a great website for your business! Even after your website is complete, these guidelines will keep working for you and your business. Let's take a look at some of the other long-term benefits of having Brand Guidelines:
Brand Guidlines help you Convert Readers to Clients
Once you do the work of pinpointing your brand identity and establishing clear Brand Guidelines, you're guaranteeing a consistent look and feel for your brand. With a brand identity crafted with your ideal audience in mind, you can be confident that your target clients will feel right at home on your website! By the time potential customers land on your homepage, they'll be able to tell exactly what your brand is all about and why it's the perfect fit for them.
Brand Guidelines Save you Time and Money
No need to go searching for the right designs and colors to use in your messaging – that's already in your brand style guide! Anyone you work with will be able to pick up your style guidelines and know, in minutes, exactly how you want to see your brand's tone and identity communicated across all media. You'll spend less time making revisions and bringing people up to speed when they partner with you as you grow your brand. Having Brand Guidelines saves you time, energy, and money!
Brand Guidelines can make Money for Your Business
Did you know that making your brand presentation consistent across platforms increases revenue by 23%?! That is some SERIOUSLY powerful growth opportunity! Investing in Brand Guidelines has serious ROI and impact on your bottom line.
Brand Guidelines are an amazing marketing tool, and that's why I'm so passionate about taking the time to bring clarity to your company's brand before even getting started on building your website!
In my Signature Service, I guide clients through the process of creating a solid vision for their brand's visual foundation, so the path to strategically create their visuals and custom website becomes clear. With my help, businesses are able to pinpoint their ideal customer and how to communicate directly to them. I don't want my clients to have "just a website"! I want to show them how to bring clarity to their brand and partner together on custom solutions that will deliver consistent results.
In the end, investing in Brand Guidelines now saves you time AND makes money for your business!
It's a proven way to clear the clutter and systematically make sure you're getting your brand message straight to your ideal client, every time. Clarity on your brand's unique offering, brand voice, and audience strengthens your position in the market and results in a custom, strategic website design that's anything but cookie-cutter!
Long after your new website is live, your Brand Guidelines have your back on the details. You can sit back, breathe a sigh of relief, and know that you don't have to reinvent eye-catching designs every time you need to create an asset for your business. Whenever new members join your team, sending them your personalized style guide ensures consistency in your brand's voice and vision.
If you're tired of spinning your wheels on gaining a clear identity and visual direction for your website and digital marketing, my inbox is always open! I'd love to partner with you and guide you through my strategic process.
Developing Brand Guidelines is part of my Signature Service when I build a custom website for your business that converts readers into clients. If you're ready to develop your own Brand Guidelines and make some magic happen with your new website, let's dive in!