Did you know that the About Page is the second most often visited page on most people's websites, coming in second only to the homepage? Not only that – in a recent study by KoMarketing, over half of respondents said the first thing that they want to see when landing on a company's website is the "About Us" page. The verdict is in: people really want to read your About Page! 
However, writing about yourself and your brand can be difficult to do. So many people need help knowing where to begin or which information is important to include, especially when it can feel like the About Page isn't directly connected to selling as the rest of your site (spoiler alert: it is!t 
Today, we're talking about the three biggest mistakes I see people make on their About Pages and how to avoid them. When you follow the best practices for creating an About Page, it can be one of your brand's strongest selling points! Let's dig into the details – I've even brought visual aids and a few website About Page ideas for you. 😉
What is the purpose of an About Us Page?
It seems like it's pretty straightforward, but the answer may surprise you! Of course, the About Page is where people get to know you a little better, and it's the perfect place to let the people and personalities behind your brand shine. But the secret behind About Pages is that they're actually all about connecting with potential clients and showing them you understand their pain points and needs.
3 About Page Mistakes to Avoid
With so much traffic coming to your About Page, it's worth putting in the work to make sure it's working hard to build connection and trust with your ideal audience. 
1. Making the About Page all about you
This might sound like a paradox, but even though the About Page is where people come to learn more about you, it's not actually about you. Even if you're a solopreneur or the entire brand is named after you, they are technically separate entities. Your brand story is different from your personal story, and telling people about your business doesn't mean telling people all about yourself…even if you are the brand!
Ultimately, the About Page is truly about your potential client and helping them decide if your company is the right fit for their needs. In the online business world, there are countless businesses similar to yours for clients to choose from, and the About Page helps you stand out! A great About Page will be strategically set up with information about your company story, brand values, and team. 
The fix: Think about who you'd like to work with, then think about which parts of your brand story and strengths would appeal to that person and help them see you as THE company they want to work with. Include those elements of your brand story on your About Page to build a connection with your ideal client.
Need some examples? My client Luxe Miami Designs did a fabulous job of making her About Page all about her ideal client: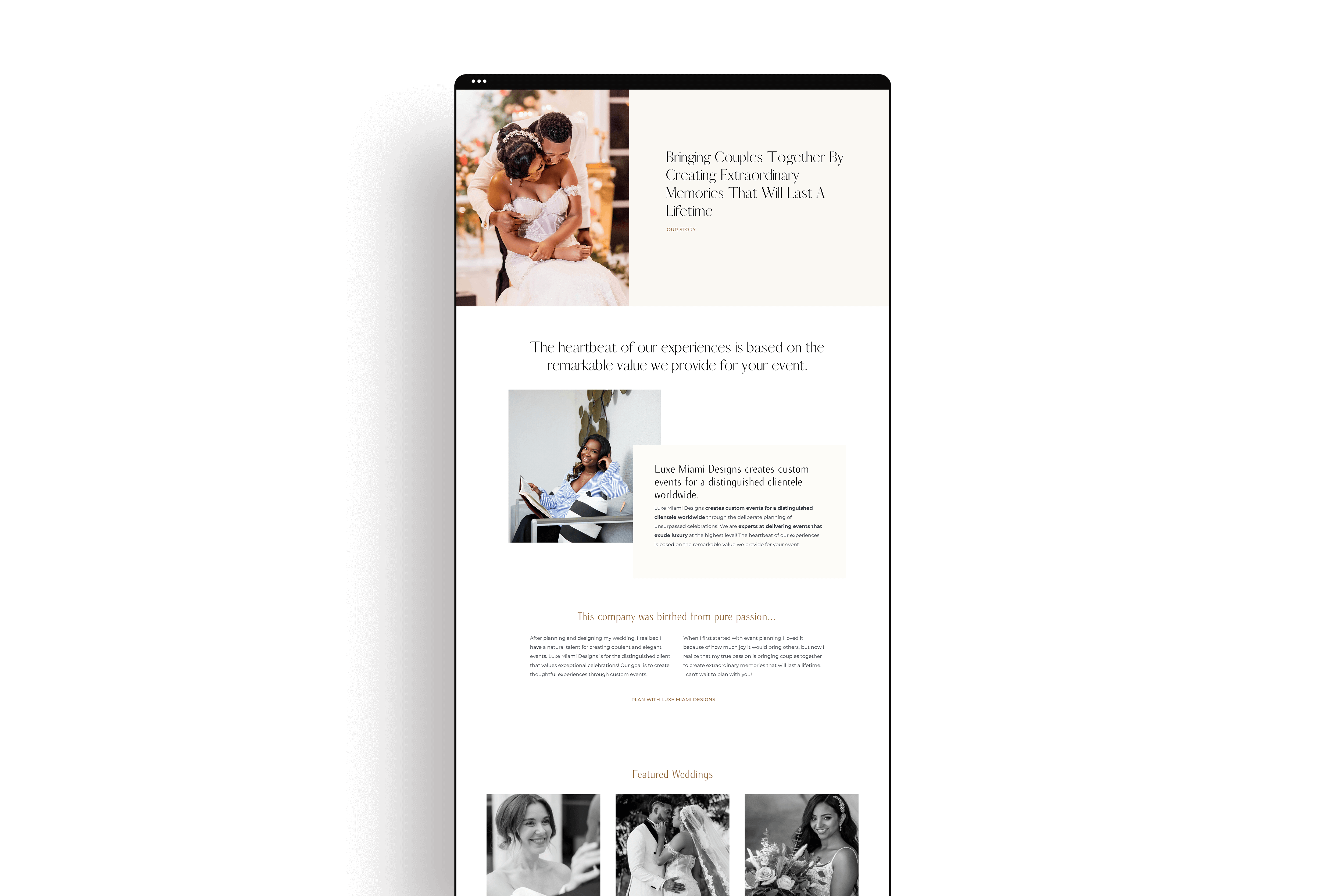 2. Not showing enough personality
The flip side of making an About Page all about you is not letting enough of your unique personality shine through. Even though your About Page is a place to show potential clients how great it would be to work with you, your unique personality is a vital part of your branding that sets you apart in the sea of competition. People naturally gravitate toward building relationships with other people, and showing your personality differentiates you from other businesses with similar offerings.
The fix: Always share a photo of yourself and team members smiling and looking at the camera, along with your names (yes, sometimes people forget that part!) Infuse personality throughout the page with copy, photos, and visuals that subtly communicate your brand and connect to your ideal client avatar without keeping the focus on yourself. Even though most of the copy should be client-focused, don't be afraid to list a few quick fun facts about yourself. 
Sharing your go-to coffee order, what you do on the weekends, or your favorite flavor of ice cream helps potential clients view you as a real person (and might give you some conversation starters when they book a Discovery Call!)
Need some examples? I love the fun facts section we put together for Food Allergy Getaways.

 3. Forgetting the CTAs
This is one I see people forget all the time! It's a common misconception that the About Page isn't a part of the buyer journey and that you don't need to map it to other parts of your website. In reality, your About Page is one of the most valuable parts of your website, doing the heavy lifting to build connection and brand trust with clients so they can't wait to work with you! Plus, from a purely technical standpoint, plenty of people land on your About Page from search results, and you want them to be able to navigate to other parts of your site easily.
Including direct CTAs throughout your site might feel like you're being too obvious or hand-holding website visitors too much, but it's more likely that people will reach out to contact you if you explicitly ask them to do so. Clarity is kind, and CTAs make it super easy for people to take the next steps to get in contact when they're ready to work with you.
Need some examples? Here's what we did for my client Leah Bryant Co. We sprinkled plenty of CTA buttons throughout her About Page to guide website visitors to other parts of her site: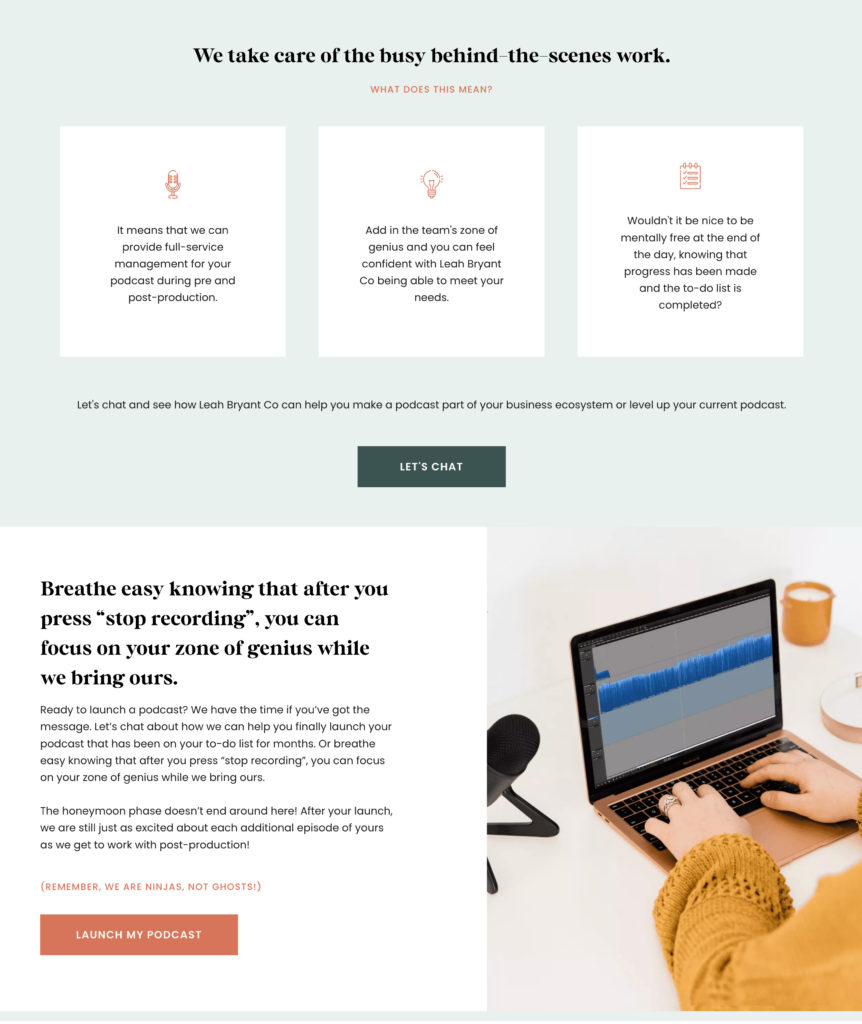 The fix:
Think about the next actions you'd like people to take when they leave the About Page, then sprinkle them throughout the page on one or more CTA buttons that link to other areas of your site. I typically recommend directing visitors to the services page or directly to the contact page to book a consultation. 
Follow these 3 About Page Best Practices for website success!
Did you catch yourself making any of these About Page mistakes? Don't worry; I've got you! It can be really overwhelming to know exactly what you should put on your About Page, but these three tips can help point you in the right direction:
Keep it client-focused to speak directly to your ideal audience

Bring in your personality to set yourself apart

Sprinkle CTAs throughout the page
Need some help creating the website of your dreams? Our Launch Week service was made for clients like you! We guide you through the entire process of designing the website of your dreams – in as little as one week. Contact us now!