I recently had the absolute pleasure of partnering with Sara over at Podcasting for Educators on her brand strategy, design, and website overhaul and the finished result is so fun & unmatched by others in her industry! Podcasting for Educators partners with educators in the online space who are ready to amplify their message through launching a podcast.
Sara came to me because she was ready to launch a new phase of her business and wanted a fun, clean, and simplified brand strategy to match her new vision!
After diving into her vision, goals for her business, and her brand values, we crafted a fun and unique design that amplifies her business values and goals.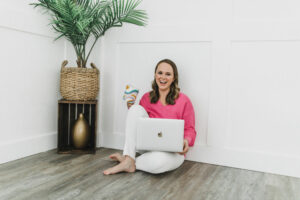 Let's dive into some Q&As with Sara
What is your favorite part of your updated branding?
"I just love it all. The fonts, colors, logos…you just made everything come together so perfectly. The color palette gives me so much to work with when creating my graphics for social media."
What is your favorite part of your new website?
"I love everything about my website! It feels fun and fresh while still being professional. I really like how you played with the fonts and text colors to make certain aspects stand out."
"My new branding will make a huge impact on my business. It speaks to my ideal clients and how I want them to feel when we work together. It makes it so much easier to use social media for marketing and helps me to stand out among other service providers."
What was your favorite part about working together?
"Working with you was so seamless. You were able to capture my vision perfectly. My favorite part about working together was going through each step of the process with you and having you deliver the various pieces. I love that you asked me for my feedback and helped me work through decisions that I was having difficulty making."
View the Project: