Last year, I took the leap and invested in Funnel Gorgeous Society Certification, and it was, hands-down, one of the best investments I've ever made in my skills and my business. If you're also a website designer, copywriter, or funnel-building specialist and you're wondering if the Funnel Gorgeous Society Certification might be a good fit, this blog is for you! 
There are SO many courses out there that you could invest in, and it can be overwhelming to figure out which ones are worth your time and money. In this post, I'll break down the investment, what you learn in the FG Society, and who I recommend it to. Let's get going!
What is the Funnel Gorgeous Society Certification?
The FG Society is an online marketing education and certification program that teaches you all the necessary digital marketing skills to help you build strategic online sales funnels. Julie Chenell and Cathy Olson of Funnel Gorgeous (who are both online marketing geniuses) created this program specifically to teach their master marketing skills to anyone who wants to become an online marketing expert.
How it works
The FG Society Certification is broken down into three phases. Each phase covers a specific element of high-conversion sales funnels: offer creation & strategy, copywriting, and design. Everything is video-based and self-paced, and there are plenty of additional resources and guides to help you understand and practice the material in each phase. There's an open-book exam at the end of each phase to test what you've learned. Once you've completed all three phases and the exams, you're officially Funnel Gorgeous Society Certified.
What do you learn in the Funnel Gorgeous Society Certification?
The FG Society is designed to provide comprehensive knowledge on creating, designing, and building high-conversion marketing funnels. It's incredibly in-depth on every single part of the process – you will learn everything from the basics of defining online business models to writing sales copy to using visual design to enhance offers. Even if you specialize in one service (like website design), there's so much overlap between each area of expertise. Understanding the overall marketing strategy behind them and how to bring everything together is what will help you truly become a master marketer!
How long does it take to complete?
It's a totally self-paced program, so that depends on how quickly you work and how much time you have! If you're already strong in some of the skills or have previous experience with building and marketing funnels, then it might take you less time to finish certain modules.
You have up to a year to take each phase and complete the program, and I think that's plenty of time; that's how long I took! I ended up taking the whole year to finish everything, but if I'm being honest, a fair amount of that time was spent letting the program collect dust on my virtual shelf 😆 Once I got serious about watching the content and completing the assignments and quizzes, it really only took me a month or two to work through everything. Twelve months was the perfect amount of time to manage my business while also completing course content, projects, and quizzes. 


What are the benefits?
The most significant benefit to the program is the skillset you'll have by the end of the program. Instead of trying to figure out what it takes to create super-successful online offers and marketing funnels, you can learn legit, proven methods from some of the best experts in the business. 

There's also an incredible Facebook community where you can network with other people going through the program or who have already become certified. Once you complete the program and gain certification, you'll also be listed on the Hire a Marketer website and in the Funnel Gorgeous marketing directory.

Plus, you get access to a resource library of other programs that Funnel Gorgeous has built over the years, which add quite a bit of extra value!


How much does Funnel Gorgeous Society Certification cost?
The FG Society Certification costs one payment of $2997, but you also break it up into 12 payments of $297. After the first year, you have the option to renew your certification and access the Facebook community and group calls for $500 per year.


What if I'm not a designer/copywriter/funnel builder? Is this certification still good for me?
That depends! If your business supports online marketing and sales funnels in some other way, then it could still be useful to understand the process and what makes successful marketing funnels.
If you want to know how to implement expert funnel-building strategies into your business, then I'd recommend the Launch Gorgeous program, which happens a few times each year. All of the fabulous strategies from FG Society (and more!) are built into Launch Gorgeous; it's just aimed at helping entrepreneurs build and launch offers for their businesses.
Was the Funnel Gorgeous Society Certification worth it?
Absolutely. If you offer online marketing services – especially as a designer, launch/funnel strategist, or copywriter – do it! It will change your business, expand your skill set, and help you make more money.
My biggest takeaway from the course was confidence. In so many small ways here and there, I was already implementing some of the things taught in FG Society. But going through the program gave me so much insight into other perspectives and how what I was already doing fit into the bigger picture of successful funnel-building. I would do it again in a heartbeat, and 1000% recommend it!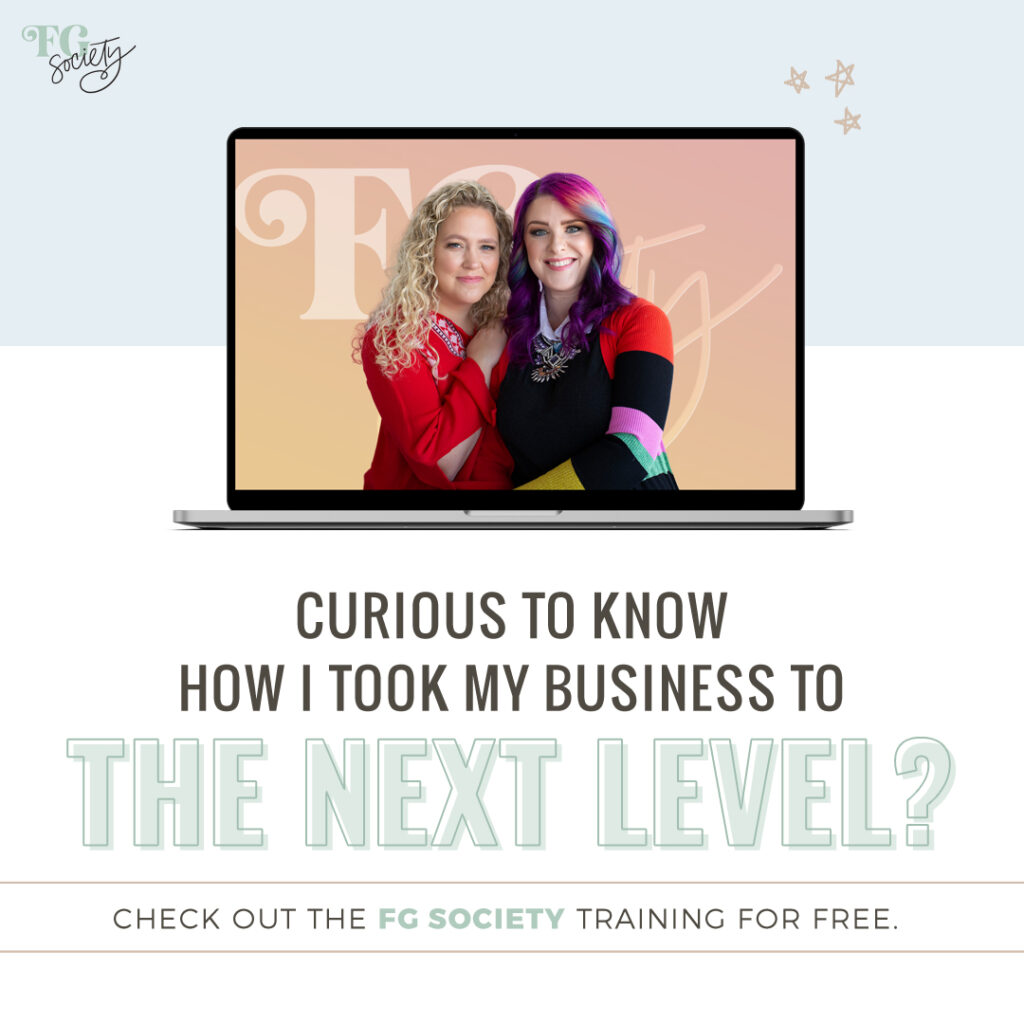 Interested in Funnel Gorgeous Society Certification? 
Head over with this link and check out their free training to see if it is a good fit!