I am thrilled to share one of our most recent Launch Week success stories (and let me tell you, it's a good one!) I recently had the absolute delight of working with Lauren on a new website for her business, Food Allergy Getaways.
In today's blog post, I'll be pulling back the curtain and giving you an inside look into our collaboration, the strategies we employed, and how Lauren feels about the results. So, without further ado, let's dive in!
The Client
Food Allergy Getaways is a travel agency that focuses on helping families with food allergies plan worry-free travel to Europe, and cruises. Trip planning takes considerable work and energy under ANY circumstances, and ensuring safe travels when you have a food allergy can make it even more daunting! 
Since she has several food allergies and intolerances, Lauren knows firsthand how time-consuming and overwhelming it can be to plan a trip that accommodates those needs. 
Years ago, when she started traveling for work, she had to carefully plan and prepare for each meal during her trip. 
Along the way, she became an expert at navigating travel with food allergies – and realized there was a market gap for clients who might need help to take on all that research. She founded 
Food Allergy Getaways to help families plan trips tailored not only to their interests and travel style but also their food allergy needs.
Before Launch Week
Lauren and I met to discuss Food Allergy Getaways' unique position in the market, her overall vision for the brand, and her website goals. Many travel agencies out there can help families plan stress-free travel, but Food Allergy Getaways serves a very specific niche within that market: travel planning for those with food allergies and sensitivities.
Lauren shines at helping these travelers with everything from trip planning to restaurant research, so they can have a worry-free vacation and focus on relaxing, having fun, and making unforgettable family memories. I wanted to highlight Lauren's unique approach to each family's trip-planning experience and weave it into her brand visuals, voice, and website with an aesthetic that felt professional, welcoming, and airy. 
Lauren's also all about taking the weight of trip planning off of clients' shoulders, so they can focus more on enjoying vacation and less on stressing out about the details. Hiring a travel agent is often a relaxing experience in and of itself, and it's also a little bit luxurious! That meant bringing together colors and images that would present a luxe but approachable vision of travel was vital. We wanted to encourage clients to dream about that next vacation and help them envision how relaxing it would be to have someone else take care of all the details!
Launch Week Goals
Lauren came to Launch Week with the end goal of a more strategic website that would attract aligned potential clients. There are so many different types of travel and travel agencies out there, and it can be challenging for travelers to find their best match! Travel for people with food allergies is a well-defined niche, and so many people are looking for a travel agency like Food Allergy Getaways! If we could get super specific about targeting that client with laser focus, Lauren could connect more with her ideal clients and less time turning down those who contacted her to ask about vacation services she doesn't offer.
She already had a strong vision of the core values and ideal client for Food Allergy Getaways; it was just a matter of helping her turn that into strategic brand visuals and a website that converts visitors into clients! Attracting more of that aligned client base to Food Allergy Getaways is a true win-win – families with allergy accommodation needs can more easily find the service they need, and Lauren can connect with and focus on helping more of those families! 
Food Allergy Getaways' Launch Week
After reviewing Lauren's overall goals and services, we customized the Elle template for Food Allergy Getaways. The Elle gives a laid-back, fun, yet reliable vibe, so it's the perfect pick for a travel agent! Of course, we wanted clients to think of fun relaxation when it comes to their vacations, but we also wanted to promote confidence in Lauren's expertise and ability to plan a vacation that will meet their needs. After all, once you bring a travel agent on board, you want to be able to genuinely let go and have faith in their expertise!
I worked with Lauren to craft a strategic journey through the site that would enable clients to see the value of Food Allergy Getaways' services and prime them to book a discovery call. 
At the end of Lauren's Launch Week, we'd put together a website that perfectly captured the brand! Lauren so kindly shared her insights about the experience, so read the Q&A below to learn more about the results of her Launch Week! 
Food Allergy Getaways' Launch Week Follow-Up Q&A!
What's your favorite part of your new website?
My favorite page is probably the homepage – but truly, the whole site. I love it! It looks amazing truly on brand.
What's your favorite part of your new brand strategy?
The brand feels luxurious but still has color to pull the client in and not compete with the travel photos.
How do you think this updated look will impact your business?
It will give me the professional launch to break down exactly what services I offer to help stop clients from reaching out about services I don't provide.
Did we successfully accomplish your design goals? What was your favorite part about working together?
Truly it was your patience with all my questions and taking the time to explain to me the WHY behind why you do it a certain way. I love understanding the process and that really spoke to me. 
What was your overall experience working with Southern Creative Co.?
Whether you are rebranding, building a new site, or looking for help with branding, Steph is phenomenal at what she does. Not only did she work closely with me to learn about my brand and vision, but any feedback about what I did or didn't like she took effortlessly and would honestly give me feedback about whether it would impact the client experience or if there was a better way to do it to engage clients on the website. She is an expert in her field and is constantly in touch with the changing trends and updates happening. It takes the right person to be able to merge your vision while also setting your site up for success, and I appreciate everything she did for my brand launch! Thank you so much!
I'm so grateful to partner with amazing business owners like Lauren as they grow their brands!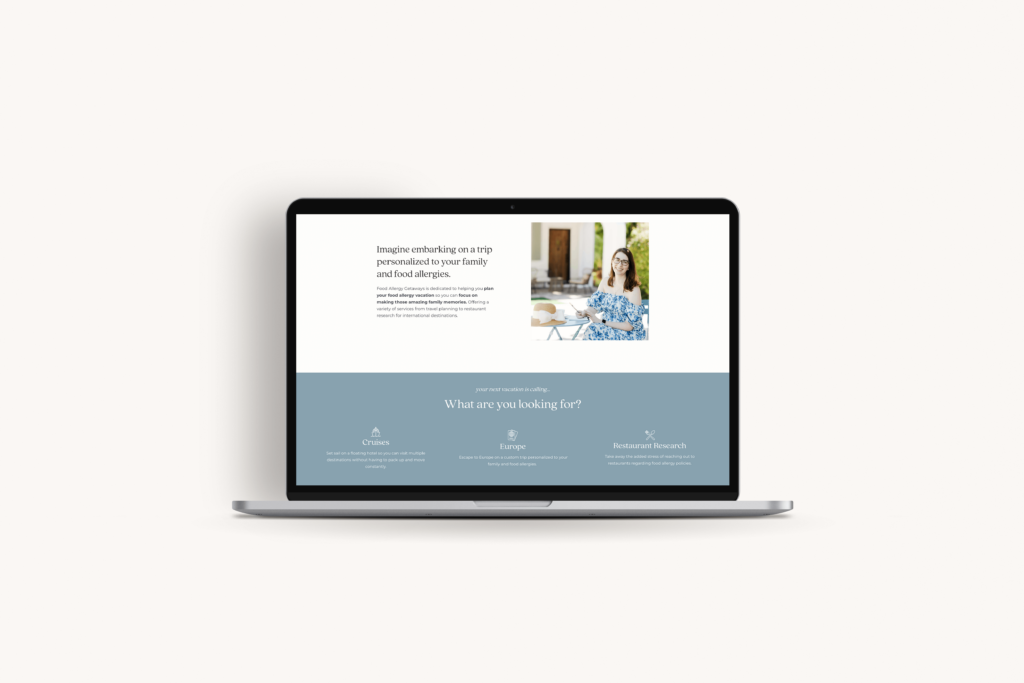 Are you ready for a brand-aligned website in just one week?