When clients come to me, they're looking for a streamlined website that will work better for their business – and that's my jam (link). But what most clients don't expect is that I'm also going to streamline their client management systems along the way!
Even though "client management" might not be the first thing that comes to mind when you think about your website, they're actually closely related! After all, the entire point of creating a strategic, brand-aligned website is to attract more ideal clients and turn them into leads. But what happens *after* you get that shiny new lead from your website?
More often than not, my Launch Week clients are manually doing every step of the client management process, from responding to the first inquiry email to booking discovery call slots to sending contracts. Leaving all that work on your own plate can cause a huge bottleneck in your client process – and if things get hectic or busy, you might even drop the ball entirely. 
So, what is one to do with a whole batch of fresh leads from their new website and not a lot of time to answer each inquiry by hand? Enter CRMs. They'll help you nail down the lead capture/pipeline process AND level up your existing client management process. (Yay for win-wins, am I right?)
What's a CRM? 
A CRM is a software tool that will help you manage all of your customer interactions. Think things like keeping track of leads, which stage of the sales process they're in, and their communication history and preferences. You can also use it to quickly and easily send questionnaires, proposals, and invoices. It's kind of like having a digital personal assistant for your business!
And here's a fun fact for you: Companies that implement CRM software can see a 300% increase in conversion rates. Just think, when you combine that kind of increase in conversions from a CRM with a website that is also designed to increase conversion rates… it's gonna be good! 😉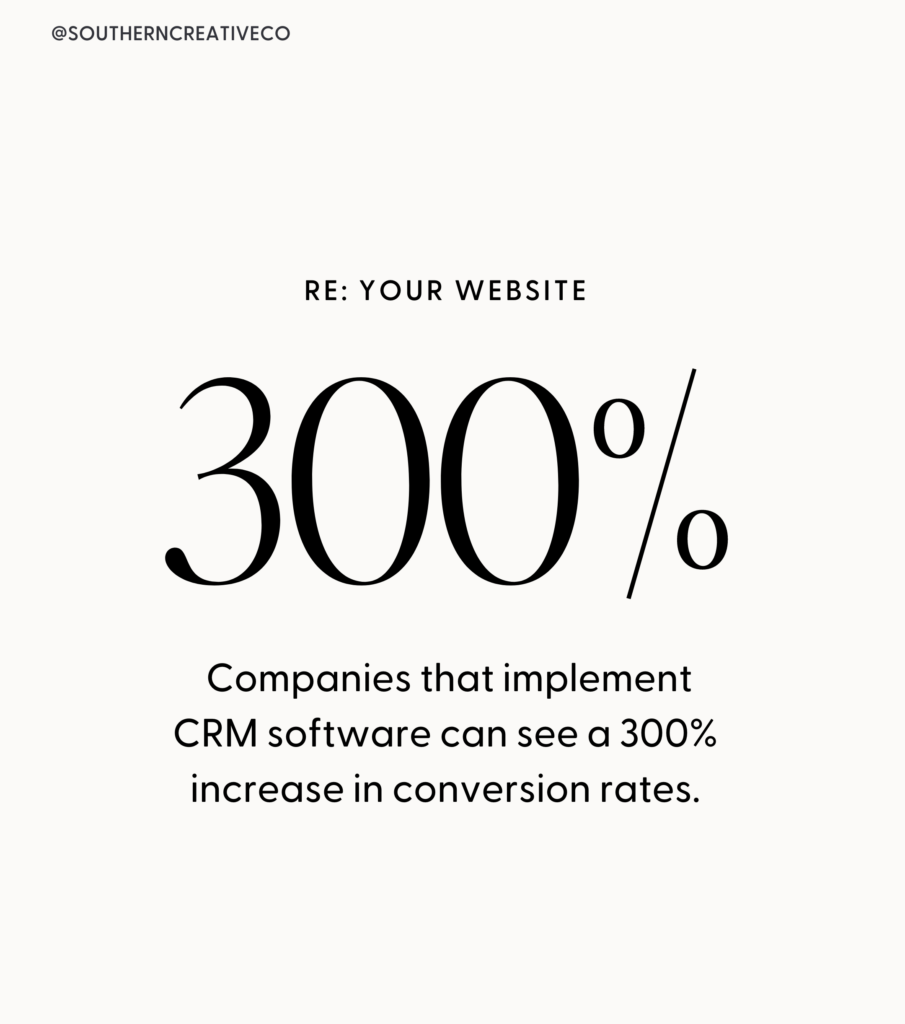 Do I need a CRM if I have a website?
As I'm working with clients on each new website launch, this question always comes up: do I need a CRM if I have a website? And I get it! At first glance, a CRM can seem like overkill for a small business owner – especially if you feel like you're doing fine keeping track of your active clients and staying on top of new leads. 
My answer to that question is: absolutely, yes! – and here's why. When you're in the early stages of business, keeping track of client communication and where each potential client is in the sales funnel in your head or a spreadsheet is doable. 
But once your business starts to grow and you get more and more inquiries, it can be tough to manage everything on your own. And that's before you work with me to create a strategic website that brings in even more leads to keep track of and proposals to send!
A CRM and a website are a match made in heaven.
Most of my clients are service-based brands, and their biggest goal is for their website to capture leads and prepare potential clients to book an appointment or consultation. To make that happen, it should be as easy as possible for potential clients to book a call with you in as few steps as possible – and the best way to do that is with a CRM!
As more and more leads come, you'll get to the point where it's taking up too much time and energy to respond to each and every person on a timely basis – especially if those leads go directly to your inbox. 
Instead of having potential clients reach out via email or DM, you can embed a lead capture form directly into your website. From there, you can set up automations, scheduling links, and pre-made templates that will save you SO much time over manually taking care of those tasks over and over. 
With all that new free time, you can focus more on learning about your potential client and preparing for the discovery call, not on going back and forth to find the best meeting times, sending appointment reminders, or writing individual emails each time you need to send a contract or proposal. 
All of those touchpoints add up to an excellent client experience, but they're all too easy to forget when it's up to you to remember to do it on time, every time. Taking those to-dos off your plate makes more room for the time and energy it takes to work on one-on-one client experiences and services. 
Where to integrate a CRM on your website
The number one place you'll use a CRM on your website is on the Contact Page. Whenever I'm talking with a client about their clients' journey, we talk about how they'd like clients to get in touch with them and what they would like to happen after someone has reached out. 
What kind of information do they want to collect right away? Once someone submits a contact form, should they automatically get a welcome email with a scheduling link, or do you want to use a template to send a semi-personalized response? 
Once we know the game plan, the client sets up the contact form with the appropriate fields in the CRM software, then I'll embed it into the contact page. From there, you can set up CRM workflows to handle automated emails, questionnaires, scheduling links, and reminders. 
What else can CRMs do for your business?
Once you've signed up for a CRM and started capturing leads, there's so much more it can do for your business!
Organize lead and client information
No more sticky notes, outdated spreadsheets, or frantic Gmail searches! How many times have you spent the better part of an hour digging through old emails, trying to remember who reached out when, what the last version of a retainer client's contract looked like, or what you talked about in your last discovery meeting? A CRM will store all client and lead info and communication history in one place. Plus, you can add additional tags to keep up with each contact's needs, status, and their position in your process. 
Level up that client experience!
Once you've worked up to loyal, long-term clients or higher-paying projects, you'll want to add an elevated client experience that shows people the best side of your brand. (Psst! If you're at the stage of business where you're investing in a new website – then you are definitely in the phase where you'll want to revamp your client experience to the next level!) A CRM makes client communication look polished and professional. 
Automate things you do on repeat
Whether you're setting Zoom meeting times, emailing appointment reminders, or sending invoices, you can set it up as an automated process in your CRM. You can also set up multiple canned emails, proposals, and contract templates, so you won't have to spend hours crafting the perfect communication at a moment's notice. 
Which CRM should you use for your website?
After testing out some of the most popular options, like Monday, Dubsado, and Honeybook, my tried-and-true favorite CRM for service-based brands is Dubsado. It takes a little bit of time on the front end to set up, but it also has the most customizable options for the look, feel, and function of each form, template, or automation. 
Ready to make it easier than ever for potential clients to contact you?
Combine the power of a CRM with strategic website design! Potential clients can book a call in just a few moments, and you can make your life easier with automations that keep track of every lead capture and client interaction.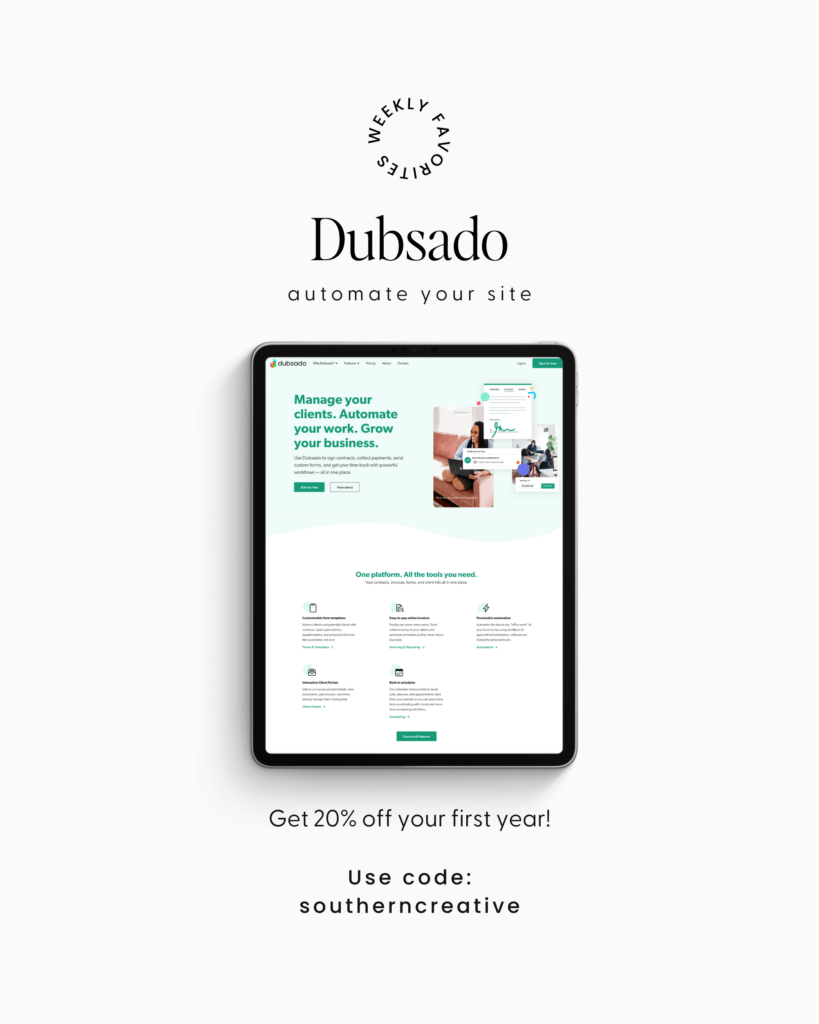 You can use my link to get started on Dubsado with a free three-client trial! 
And, if you still need a strategic website that will get clients to book those discovery calls, I do that, too. Reserve your Launch Week now!