SEO is a non-negotiable must-have for any WordPress website! In short, it's the secret sauce behind driving organic site traffic to your website. But even though it's incredibly important, SEO can also feel incredibly overwhelming. Instead of learning the SEO ropes, many people decide to leave it by the wayside or make it an afterthought. 
The truth is, SEO isn't as complicated as you might think. And with the best SEO plugins for WordPress, you can get support that makes improving your SEO a seamless process. In this post, I'm spilling the tea on my favorite SEO plugins for WordPress, my pick for the best SEO plugin 2023, and more!
Why you need SEO plugins
SEO plugins help you get more bang for your efforts without having to do as much work! Even if you don't know a ton about SEO, plugins help you craft page content around keywords, follow best practices, and build a more Google-rank-worthy site. It's a win-win!
Let's take a closer look at the best SEO plugins WordPress has to offer.
The best SEO plugins for WordPress
There are so many great options out there! While I'm all for paying for premium features if they're worth it, you can even find some pretty great WordPress SEO plugins for free! Here are a few of my top picks. 
Best all-in-one SEO Plugin: Rank Math
A dedicated SEO plugin like Rank Math will help you optimize each individual site page or blog post before you ever go live. I love that there's a built-in dashboard where you can grab a quick overview of the most important SEO information, like the keywords you're ranking for and how many clicks your site is getting.
However, my favorite feature is being able to plug in target keywords while writing a post. Rank Math evaluates your page content for those terms and SEO formatting. Even if you're a total SEO beginner, it's super easy to see how to make improvements and write optimized posts. 
I recommend upgrading to Rank Math Pro for the best results, but you can get started with Rank Math for free!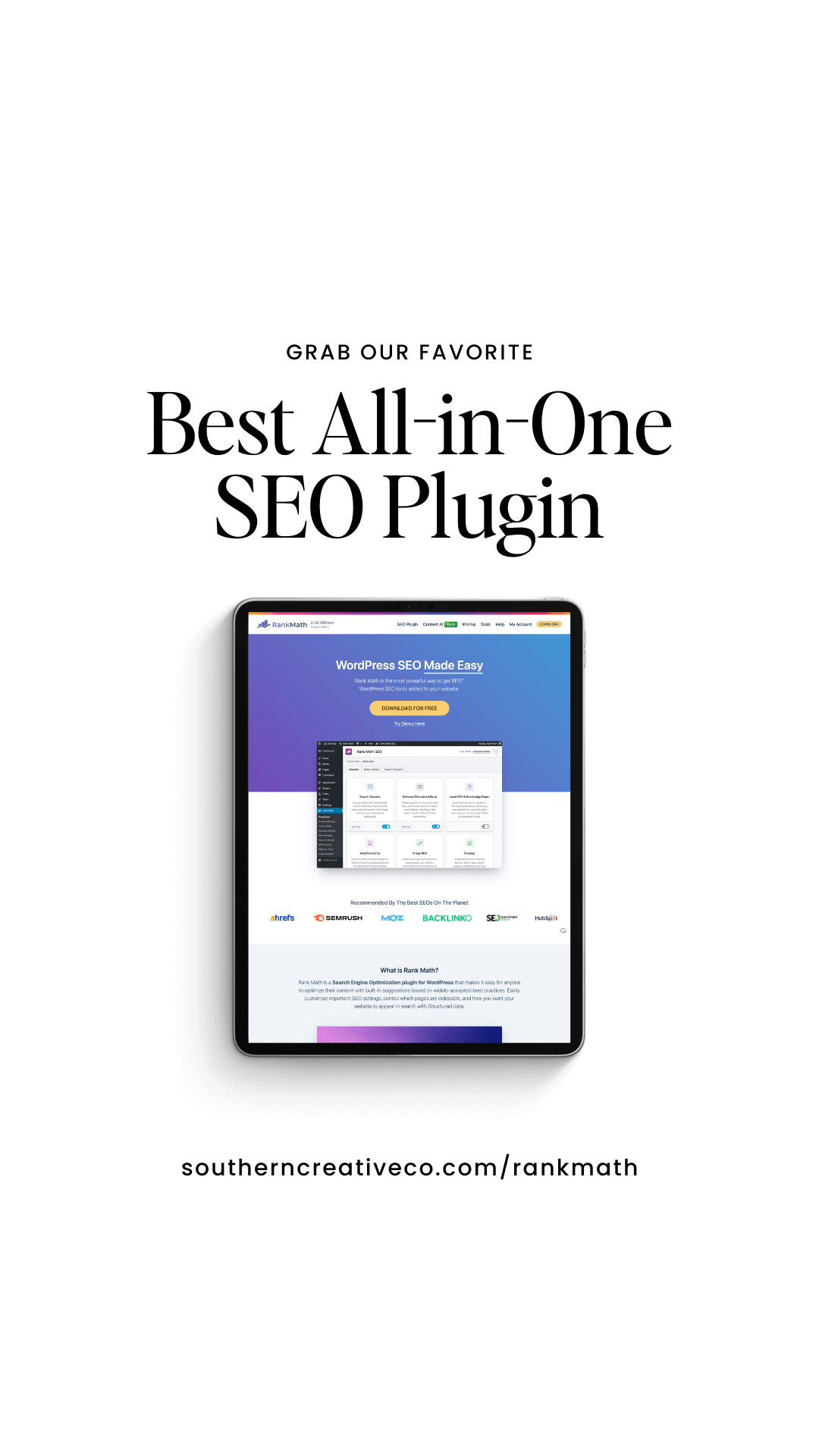 Most well-known: Yoast
Yoast is the #1 SEO plugin for WordPress, and it's the "superstar" plugin that most people know and love. While Yoast isn't my personal top pick, it's still a great SEO plugin! Similarly to Rank Math, you plug in target keywords and Yoast will let you know how page content or a blog post stacks up. 
You'll get an evaluation for your work so far, along with suggestions that will improve your changes of ranking in Google search results. However, I don't find Yoast quite as user-friendly as Rank Math! Plus, there are a ton of different add-ons that can slow down your site speeds ever-so-slightly. That's not as likely to happen with Rank Math.
For tracking analytics: Monster Insights
Evaluating your site's user analytics is absolutely key for seeing what's working on your site – and what isn't! You can sign into Google Analytics on your own, but my preferred analytics plugin is Monster Insights. Once you've installed it, you can track SEO analytics right in your WordPress website dashboard. Bonus: they're also much easier to understand in the Monster Insights dashboard vs. reading them directly in Google Analytics.
Want to read a deep dive on why analytics are so important and how to install Monster Insights for Google Analytics? Read this post! 
Redirecting links: Pretty Links
Descriptive, well-organized links are easier on the eyes and soooo much better for SEO! But any time you need to post a link that didn't come directly from your website, the URL structure is out of your control. Enter Pretty Links! Instead of a long, randomized URL that's generated by an affiliate program or CRM, you can use a shortened URL that's cohesive with the other links on your site. 
Best Plugin for Site Speed: NitroPack
Fast loading times are incredibly important for SEO! Fun fact: visitors expect pages on your site to load in three seconds or less. Plus, Google is using page loading times to decide where to rank your site in search results. However, it can be difficult to pin down what to do to improve site speeds.
NitroPack makes the process much easier, giving you suggestions on which adjustments to make to get your site running lightning fast. 
There you have it: my favorite SEO plugins!
Learning your way around SEO can feel like a huge task! But don't let that stand between you and honing your SEO skills. With the best SEO plugins for WordPress, it's so much easier to make small tweaks that improve your overall SEO game and improve your chances of ranking in Google search results! 
Want to know all my best SEO secrets?
Download the free SEO checklist! I'll walk you through every step of setting your website up for SEO success, complete with links to my the best SEO plugins for WordPress.